Save the Date
DVGA Spring Dinner on Friday, April 29th 6-9pm

The Delaware Valley Geographical Association is hosting a dinner with guest speaker, Robin Leichenko, a Professor at Rutgers. A number of faculty plan to attend this year and we will arrange a carpool. For those that present a research poster, the department will reimburse the cost of the dinner. Click here for more information.
2016 Year End Celebration Friday, May 6th 2:30-4:30 at the Philips Autograph Library

All are invited to attend this celebration hosted by the Geography & Planning Department. The event will recognize graduating students and new invitees and inductees to Gamma Theta Upsilon (the Geography Honor Society). Plan to stop by, check out the research posters, mingle with the faculty, staff and fellow students, and grab a bite to eat! See the invitation for more details. Please RSVP to Heather (hmacqueen@wcupa.edu) if you can come so that we are sure to have enough food on hand.
Student Support Services
Conferences
News
Welcome!
The Geography and Planning Department offers programs that bridge the physical and social sciences, combining the theoretical with practical experience. Students gain knowledge that can be applied to societal and environmental problems and to future planning. Departmental programs prepare the student for the post-graduation job market as well as for advanced educational opportunities.

For more information, please contact the Geography and Planning Department Chair, Dr. Dottie Ives Dewey, or call 610-436-2343.
COSTA RICAN SPANISH CULTURE CLUSTER COURSES
Summer I 2016
Latin American Geography GEO 302 AND Latin America Culture and Politics PSC 340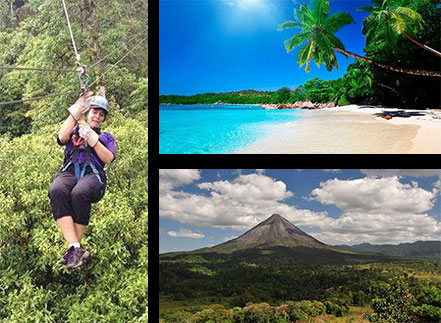 Consider a course trip to Costa Rica with Dr. Gary Coutu during Summer I 2016. The trip runs from June 6-17, 2016 and costs $1,550.00. A $250.00 deposit by February 15, 2016 is required. Please click here for more course trip details.
We will explore the geography, culture, and politics of Costa Rica through trips to the urban, agricultural, rain forest, and coastal regions of the country. This includes 3 days on the beach, zip lining through the rain forest, visits to wildlife and biologic preserves, rain forest and volcano excursions, and tours of local markets, agriculture, and historic sites. This Summer I course trip to Costa Rica incorporates GEO 302: Geography of Latin America (Dr. Gary Coutu) and PSC 340: Latin American Culture and Politics (Dr. Linda Stevenson). The course and trip include a ten day trip to Costa Rica and attendance at the Knowledge Crossing Borders Conference (in collaboration with the at Universidad Nacional de Costa Rica (UNA)), held at WCU.
Trip activities include visits and lectures on the UNA campus, combined with exploration of the cities, communities, culture, food, and geography of Costa Rica. Activities include a tour of a coffee plantation, a trip to the rain forest of Braulio Carrillo National Park, along with a zip lining tour of the canopy. Travel to Arenal National Park, where we will swim in hot springs, volunteer at a wildlife rescue center, and view the Arenal volcano. Travel to the Monteverde Cloud Forest Biological Reserve by boat and horseback to learn about the flora and fauna of Central America. The trip also includes three days on the west coast beaches of the Manuel Antonio National Park, in Quepos.
For more information and/or to apply, contact WCU Faculty Sponsors/Trip Leaders:
Dr. Gary Coutu, Geography and Planning, gcoutu@wcupa.edu 610-738-0522
Dr. Linda Stevenson, Political Science, lstevenson@wcupa.edu 610-436-3162
https://www.wcupa.edu/international/studyAbroad.aspx