Welcome to the College of Education & Social Work
Meet the Dean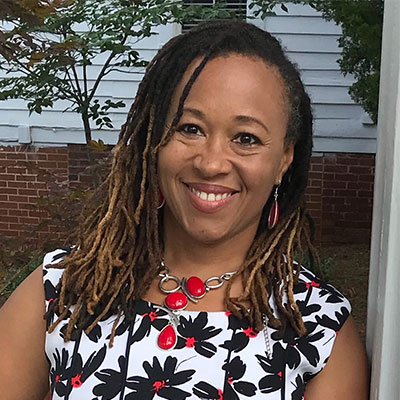 It is my pleasure to welcome you to the College of Education and Social Work (CESW), where it is our mission to prepare highly-skilled and ethical professionals to become fair-minded critical thinkers and change agents who act with integrity in the pursuit of knowledge and strive for excellence within their professions. The CESW fosters a culture of reflection, evidenced-based practices, intellectual discourse, and respect for human diversity. The CESW empowers students to make a significant impact on the world to improve individual and family lives and strengthening educational, health, or community systems. Our conceptual framework grounds how we approach this work. Read more about the Dean.
Spotlight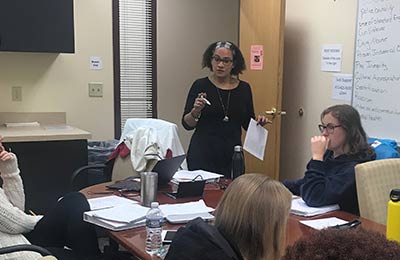 NID program director Kyra Atterbury talking to West Chester Literacy Practicum students about exploring social issues in the classroom
Partnering with Need in Deed for Research and Teaching
For the past 6 years, Dr. Kathleen Riley has partnered with the non-profit organization Need in Deed (NID), which supports Philadelphia teachers in facilitating student-driven service learning projects with their students in grades 3-8. In her Literacy Practicum class, Dr. Riley has worked with Need in Deed to place West Chester students with teachers who engage their students in critical literacy practices such as evaluating multiple perspectives; analyzing their worlds in terms of equity and fairness; and taking action to make change in their communities. Each fall, NID program director, Kyra Atterbury, visits Dr. Riley's class to teach them about the organization's curricular framework (as seen in the spotlight photo). Read more about the spotlight...
AnnouNcements
Congratulations to the CESW students who earned the great honor of receiving the 1871 Award ! This award recognizes WCU juniors and seniors who are high-achieving in both academic and co-curricular areas. An award ceremony is scheduled for Thursday, April 15 at 4 pm.
The Wall of Honor recognizes alumni the have made significant contributions in the area of counseling, education, or social work. Please nominate a deserving individual.
Back to top of page.