Mather Cartographic Resource Center
Contact Information:
Telephone: 610.436.2869
Location: 2nd (Main) floor, F. H. Green Library
Awilda Reyes, Government Documents and Maps Librarian
The Sandra F. Pritchard Mather and John Russell Mather Cartographic Resource Center (CRC), located on the second (Main) floor of the FHG Library, has a collection of over 3200 maps in addition to atlases, gazetteers and reference books. More than 500 atlases are available to researchers, including historical and international editions.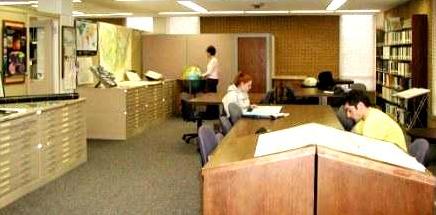 Dr. Sandra F. Pritchard Mather retired in 1999 from her position as professor at West Chester University's Department of Geology. "The Alumni Spotlight," WCU Magazine, Winter/Spring 2005, Volume 2, highlights Dr. Mather's active life and career.
Dr. John Russell Mather, professor emeritus of geography at the University of Delaware, is a recipient of the Charles P. Daly Medal from the American Geographical Society.
---
The FHG Library is a depository for maps produced by the U.S. Geological Survey, National Ocean Survey and other selected federal agencies. Search PILOT, the Library Catalog, to identify items in the collection.

Mather CRC materials are for in-library use only.
---
Geographic Information Systems (GIS) software is available for the West Chester University community online via Citrix at http://access.wcupa.edu. Log in using your WCU ID/password, download the Citrix Receiver software, and find ArcGIS in the "Favorite App" menu. For help using ArcGIS, visit the Geography and Planning GIS Lab in Ruby Jones Hall.
---
The Mather CRC is open whenever the FHG Library is open. If a Government Documents and Maps staff person is not available, contact the Reference Desk for assistance: ph. 610-436-2453.