Welcome!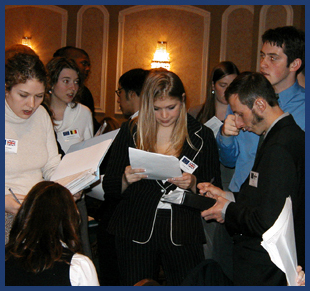 Thank you for visiting the website for the Mid-Atlantic European Union Simulation. This experiential learning program endeavors to connect American students to EU policymakers and policy making by bridging the gap between the academic study of the EU and actual political practices in the EU.  

Created in 1993, the Mid-Atlantic European Union Simulation Consortium boasts a membership of fifteen colleges and universities that annually administer a conference for nearly 200 students.  These students converge on Washington, D.C., in mid-November to engage in professional-level political briefings and to participate in simulated meetings of the European Union's primary decision-making bodies: EU Commission, Council of Ministers, the European Parliament, and the European Council.  MEUS is one of only three EU simulations nationwide that use all four of these institutions.

The Mid-Atlantic European Union Simulation continually seeks to engage students in discussions and debates that are both current and topical in EU decision-making circles.  Some recent examples include the EU's relationship with its eastern and southern neighbors, organic agriculture and search for alternative sources of energy, pollution of the Mediterranean, and human trafficking.

During the simulation, students find multiple opportunities to refine and enhance specific skills and capabilities: leadership, analytical and critical thinking, public speaking and oral debate, small group cooperation and consensus building – all of which are keys to success in today's professional world. Moreover, we hope the MEUSC students will garner greater cultural sensitivity, global awareness, and international sophistication, ultimately shaping their academic and professional lives for years to come.

Strive to achieve these goals as you proceed with your negotiations, and enjoy sharing with your colleagues the outstanding benefits of experiential learning. Best of luck during this educational adventure!