West Chester Borough: Our Favorite Restaurants
Being located in the Borough of West Chester is one of our favorite things about West Chester University.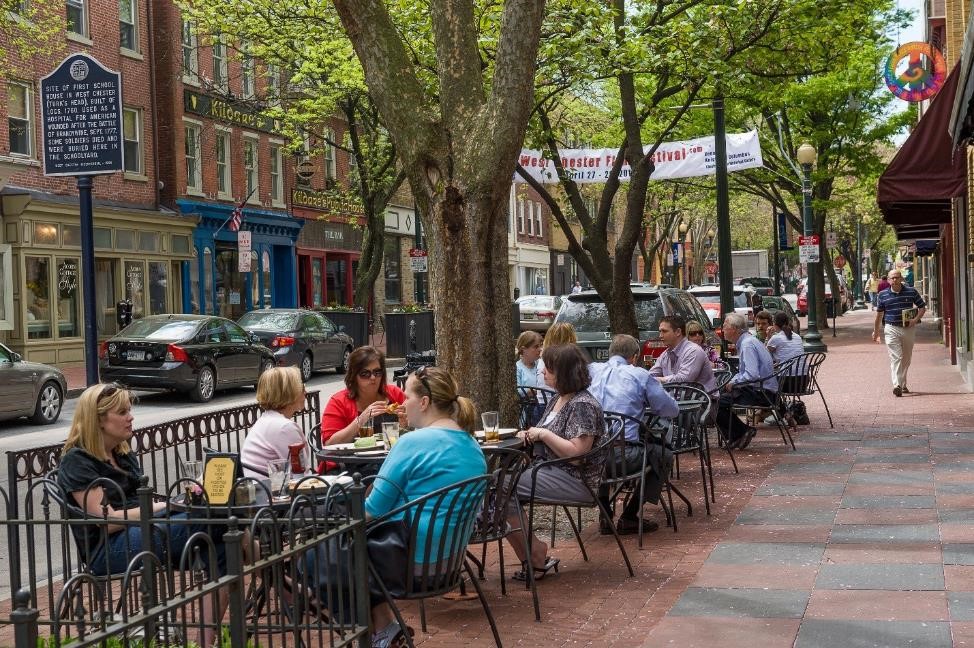 Known locally as "The Borough," West Chester has been ranked as one of the best college towns in America and one of the best towns to live in after graduation. West Chester also has one of the greatest main streets in the USA. The Borough is a ten-minute walk from WCU's North Campus, and many students enjoy shopping, dining, and socializing downtown.
With over 65 restaurants and cafes, the Borough has a plethora of amazing dining options. We love all of them, but we narrowed down our top five favorite West Chester restaurants:
1.) The Social – If you like Southern cuisine, you will love The Social. They feature Southern classics, like po'boys, shrimp and grits, and fried chicken. But their salads are equally good, featuring berries, candied nuts, and cornbread croutons.
Favorite menu item: pistachio-crusted chicken fingers and sweet potato fries. Their fries are the best in The Borough!
2.) Barnaby's – This restaurant has been a West Chester staple since 1997. Located on High Street, Barnaby's features classic American pub fare. If the weather is nice, you can enjoy your meal on their back patio. Barnaby's runs specials every day, so be sure to check out their website for great deals.
Favorite menu item: tie between the pesto hummus with pita chips and the cheesesteak eggrolls.
3.) Más Mexicali Cantina – Más' rooftop is legendary. Enjoy the best Mexican around while taking in views of Downtown. Más has delicious tacos, fajitas, burritos, and quesadillas. Their menu also features a selection of vegetarian options.
Favorite menu item: queso fundido.
4.) Limoncello – Limoncello is a favorite of the Office of Admissions. We love to frequent their lunch buffet where you can sample many of their delicious Italian foods, such as stromboli, roasted vegetables, ravioli, and dessert pizza!
Favorite menu item: tortellini in a cream sauce.
5.) Iron Hill Brewery – Can't decide what to eat? Iron Hill's expansive menu will have something for everyone in your group. Pizza, burgers, vegetarian offerings, salads—Iron Hill has it all.
Favorite menu item: BBQ chicken flatbread.
The next time you are on campus, take a ten-minute walk up High Street to visit one of West Chester's great restaurants!
RAMS UP!
---
Is there something you would like to learn about that you think should be featured? Send us an email with your ideas. You can also share our blog by using the share to Facebook, Twitter, and email buttons on the left hand side of this page.
Back to top of page.