---
ANNOUNCEMENTS & REMINDERS
Are you using your WCU email? If you aren't, set up your password and start checking it daily!
---
Click Rammy for info about how to get your
WCU ID
!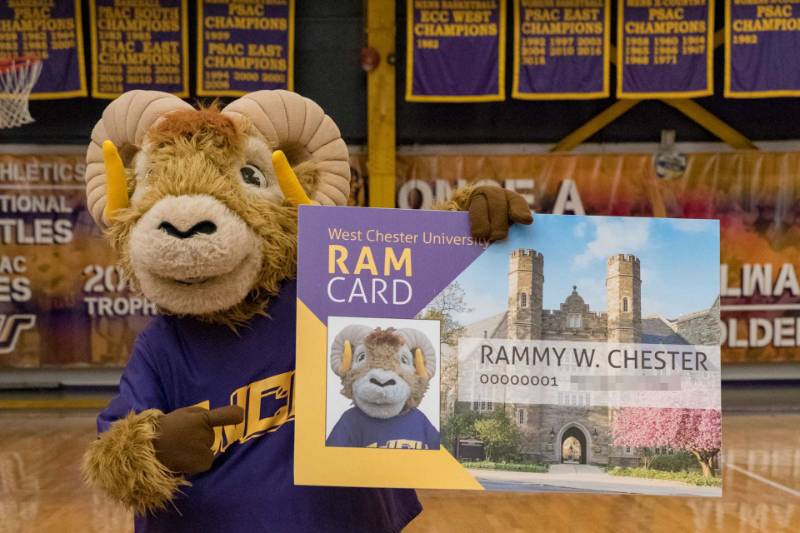 Hello, New Rams!

Welcome to West Chester for the Spring 2022 semester! To help you get acclimated and ready for your first semester as a Golden Ram, we're offering you two virtual options or one on-campus option for completing your new student orientation:

January 14, 2022 - Virtual Orientation (10 AM - 1 PM)

January 21, 2022 - On-campus Orientation (12:30-4:15 PM)

February 4, 2022 - Virtual Orientation (10 AM - 1 PM)

You choose which option and date works best for you!

Registration is open now, so click the button below to register for the orientation you prefer. If you have any questions, please email orientation@wcupa.edu or call (610) 436-3305.

General Orientation FAQs

Yes. At WCU, we strongly believe--and our research shows--that orientation is an important first step in helping new Golden Rams make a successful transition to WCU, so all new Rams are required to complete an orientation.

Yes. All new students are charged a one-time new student fee on their first WCU semester bill. This fee covers all costs associated with orientation and new student programming as well as the cost of your first WCU ID.

Note: All new students are required to pay the new student fee regardless of their level of participation in orientation and/or new student programming.

New students must upload a photo in order to have their ID printed. You can find more information, including photo specifications, on the

Ram Card office's website

.

New Rams who are starting in the Spring 2022 semester should contact their academic department to schedule an advising appointment. Students entering undeclared should contact the office of Exploratory Studies.

Virtual Orientation FAQs

Virtual orientation will take place from 10:00 AM to 1:00 PM on Friday, January 14, 2022 and Friday, February 4, 2022.

Once you register, you'll receive the Zoom link for the virtual orientation in your confirmation email. You'll also receive reminders one week and one day before the orientation that will also have the link.

NOTE: Since you register for orientation through your Admissions portal, the confirmation and reminder emails will be sent to your home email address, so be sure to check it for them.

Yes! Please include your guest information on your registration form so they will receive the link.

NOTE: Students and their guests will be placed in separate breakout rooms for the last session at virtual orientation, so you may wish to have a separate device available for viewing.


On-Campus Orientation FAQs

Check-In starts at 12:30 PM. The program starts promptly at 1:00 PM, so please allow enough time to park, check-in and get settled before the programs begins.

Orientation is in Sykes Student Union located at 110 W. Rosedale Avenue.

Parking for orientation is available in K Lot located directly behind Sykes. Overflow parking is in M Lot located off S. High Street behind the Swope Music Building. M lot is approximately 2.5 blocks from Sykes. You can find both lots on our campus map.

NOTE: You do not need a parking pass to park behind Sykes or in M Lot for orientation since it is winter break. Faculty/Staff lots do require a parking pass and are enforced even during semester breaks, so you may be ticketed or towed if you park in lots designated for Faculty/Staff. Please park only in K or M lot. Street parking is controlled by the Borough of West Chester and is strictly enforced.

In light of recent changes, we are currently revising the orientation schedule. Please check back. The revised schedule will be posted as soon as possible.

Note: A our of campus is part of the orientation day. Please dress accordingly and wear comfortable shoes!

We regret that students may no longer bring a guest to on-campus January orientation due to renewed capacity limitations in our facilities and the recent increase in COVID cases.

This change in guest policy was prompted because we wish to offer an on-campus orientation experience to as many new Rams as possible while staying within space capacity and allowing for social distancing. We are sorry for any inconvenience this may cause, but appreciate your patience and understanding as we continue to navigate the ongoing pandemic.

Yes, in accordance with University policy, all students must wear a mask while indoors.

If you need special accommodations for the orientation program, please contact our office at (610) 436-3305 as soon as possible to make these arrangements. Our office hours are Monday-Friday, 8 AM - 4 PM.

If the on-campus orientation has to be cancelled due to weather, we will host a virtual orientation in its place. The virtual orientation will be held from 10 AM to 1 PM. Please check your home and WCU email addresses for updates about weather cancellations.

AFFILIATED HOUSING

If you are living in affiliated housing this spring (Allegheny, Brandywine, Commonwealth, The Village or The East Village) you will receive information from University Student Housing (USH) about signing up for a move-in time. If you have questions, please contact the USH leasing office at (610) 430-4988 or leasing@ushcommunities.org.

TRADITIONAL HOUSING

If you are living in traditional housing this spring (Goshen, Killinger, Schmidt, Tyson, College Arms, or the South Campus Apartments) you will be permitted to move in after the orientation on the 21st between the hours of 4:30–6:30 PM. If you have questions, please contact the office of Residence Life and Housing at (610) 436-3307 or housing@wcupa.edu.
Back to top of page.