PeopleSoft 9.2 Upgrade
Project Summary
Our Oracle partners have upgraded a copy of our myWCU to Campus Solution version 9.2 and re-applied many of the WCU customizations. This 9.2 upgrade establishes a better foundation and an improved user interface. Going forward, it provides ongoing behind-the-scenes software support by Oracle and will help maintain a more stable system environment.
Preparing for Go-Live
Preparing for myWCU Upgrade Checklist
Post Go-Live Support
Academic & Enterprise Systems is hosting open session/Q&A zoom rooms regarding the myWCU 9.2 upgrade available Tuesday, September 22nd – Wednesday, September 23 from 8AM – 4PM.
To join, email Tiffany Marsilio at tmarsilio@wcupa.edu for the zoom information.
Timeline
Date
March 2020
User Interface

AES worked to develop the new user interface and navigation collections.

April 2020
Initial Upgrade

AES worked with our Oracle partner to upgrade our copy of myWCU.

May 2020
Unit Testing

During this time AES completed initial unit testing.

June & July 2020
Beta Testing

Functional users across campus will need to test all system functionalities to ensure they are working as needed.

August 2020
Go-Live Preparation and End User Training

AES will coordinate user training for end users.

Functional offices will validate any final fixes, document internal processes, and finish staff training.

Thursday, September 17th at
8 pm
Go-Live

myWCU will go offline and the upgrade will begin.

Friday, September 18th at
8 am
Go-Live

QAS will be available – this is an information only database accessible to faculty and staff during the upgrade.

Saturday, September 19th
Go-Live

Academic and Enterprise Systems will complete alpha testing of myWCU upgrade.

Sunday, September 20 – Monday, September 21st
Go-Live

Functional offices will complete beta testing of myWCU upgrade.

Tuesday, September 22nd by
8 am
Go-Live

myWCU will be back online.
Training
In preparation for Student Information Systems' Oracle 9.2 upgrade, the AES team has developed a series of job aids on the new system.
These job aids are designed to help administrative staff navigate the new system and become familiar with the new look and feel of the system.
FAQ
Use your network Username and password to log into: https://mytraining.wcupa.edu/psp/strn57/?cmd=login&languageCd=ENG&
This environment can be used to familiarize yourself with myWCU version 9.2 and practice executing the functions you normally perform prior to Go Live
The 9.2 version has a different look and feel compared to the existing myWCU environment. The design and layout is an area we are continuing to refine. This Jumpstart 9.2 Intro video gives you a preview of the design and helps give you the basics of navigating the system.
We have scheduled 2 open session/Q&A zoom rooms, below are the details. To join, email Tiffany Marsilio at tmarsilio@wcupa.edu for the zoom information.
Wednesday, September 16th 3-4 pm
Friday, September 18th 9-10 am
West Chester University utilizes an Oracle product, PeopleSoft Campus Solution (CS), for its student information system, known on campus as myWCU. It requires periodic updates to address issues, regulatory requirements, and customer needs and wants, the PeopleSoft CS version 9.0 will undergo an upgrade to version 9.2.
Our current version (9.0) will no longer be supported by Oracle; the upgrade to 9.2 ensures that we continue to receive the latest regulatory updates to our system.
The most significant and noticeable change with the upgrade will be the visual layout and navigation. Users will be utilizing Tiles, to access functions. In preparation for a mobile environment, PeopleSoft CS 9.2 introduces the use of tiles for key components instead of the folders and files, which we see today.
Most features and functionality will remain the same.
We recognize the change can be challenging. You will be primarily using the Tile Navigation for moving around the system. If you are unable to locate a form/function via this method, we suggest using the search feature and Compass icon, which launches the navigation bar.
When you log in, you will see the homepage with tiles. These are configured based on your role (Faculty, Staff or Student). This is an example of the tiles a Student would see on their homepage. This tile display is based on accessing the system via a laptop or desktop computer. Accessing applications through a mobile device may change the layout/order of the tiles.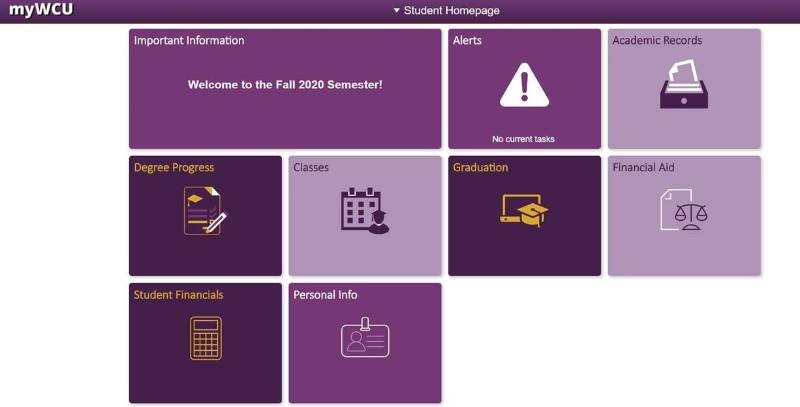 You may have more than one homepage if you serve in multiple roles. For example, if you are a faculty member and also a staff member, you will have a faculty homepage and a staff homepage. This makes it quick and easy to locate content and perform functions specific to each of your roles.
Click the Home icon to access the homepage & then click the dropdown list to view other homepages available to you.
No, the tile locations will be locked and the tiles visible will be based on your role.
Below is a legend for the tools you see on the top right side of the screen:

| Icon | Description |
| --- | --- |
| | Home icon - Select to return to the Homepage with tiles. |
| | Search icon - Select to search. |
| | Snowman icon - Select to see a list of available actions for the current window. The Sign Out command is available under this menu. |
| | Compass icon - Select to use the Navigation Bar (Nav Bar). The Nav Bar provides handy navigation options such as Recent Places, My Favorites, and Navigator (which expands to show the classic menu hierarchy). |
The Navigator displays the traditional, hierarchical menu structure, similar to what the user would see when accessing the Main Menu in myWCU.
No, due to some changes to the navigation you will need to re-establish your favorites.
The go-live period will kick-off on Thursday, September 17th at 8 pm - when the myWCU Campus Solutions system will be taken offline. At that point, access to myWCU functions will become unavailable. Given the scope and complexities involved, the upgrade is scheduled to proceed throughout the weekend with an anticipated go-live on Tuesday, September 22nd, at 8 a.m - when access to myWCU will be restored.
Back to top of page.