Class Search
The Class Search is used to find classes that match chosen criteria. These instructions will show how to enter criteria in the spaces available to return the list of classes most relevant to the user's needs.
From your myWCU homepage, click on the Classes tile, then click Class Search

How to Search for Classes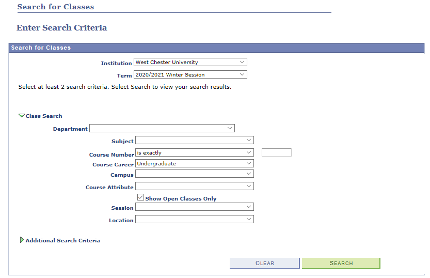 If you know the Subject (i.e. PSY) and Course Number (i.e. 100), you can search on that criteria only and all possible Instruction Modes for that course will appear.

If you want to complete a board search (i.e. search for all courses that fulfill the Science Gen Ed requirement), all possible Instruction Modes will appear in the search results.

You may further narrow your search results by searching for courses based on the Mode of Instruction, which is available within the Additional Search Criteria section.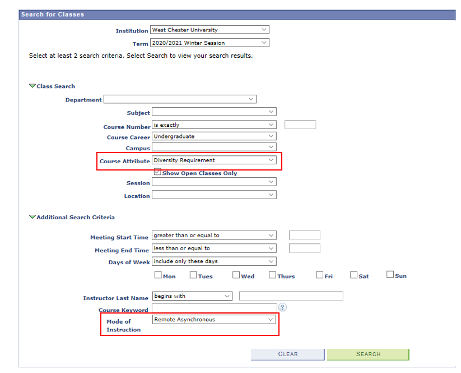 Fall 2020 and Winter 2020/2021 Instruction Mode Definitions
| Class Type | Class Description |
| --- | --- |
| Remote synchronous (RS) | Fully remote course that offers days/times for the instructor and students to "meet" virtually. |
| Remote Asynchronous (RA) | Full remote course that does not require students to engage on specific days/times. |
| Online (OL) | Fully online course that did not experience any changes with the move to remote learning for fall 2020 term. |
| Hybrid (HB) | Courses that offer some in-person engagement. Student enrolled in hybrid course, have a Hybrid Class Selection section on their myWCU homepage where they may indicate their comfort engaging in-person. |
Reviewing Instruction Modes in Search Results
Remote Synchronous (RS)

- Class will "meet" virtually during the days & times listed.

2. Remote Asynchronous (RA) – class does not have a designated time to "meet".

3. Online (OL) - class is 100% online and does not have a designated time to "meet" virtually.

4. Hybrid (HB) – class does require some in-person engagement as identified by the days and times listed.
Content Manager: AES
Back to top of page.