Searching for Classes that fulfill a General Education Pathways
Class Search can be used to find classes that meet specific general education or program requirements, including the General Education Pathways Certificates. These instructions will demonstrate how to search using the Course Attribute filter to find courses that can be taken to satisfy a Pathway Certificate program.
From your myWCU homepage, click on the Classes tile, then click Class Search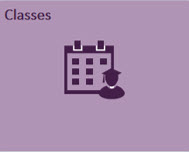 How to Search for Classes for a chosen General Pathway
Select a term from the drop down.

From the Course Attribute drop-down list, select your pathway certificate program to see the courses being offered that meet the requirements of that pathway. There are 3 pathway certificate programs:

Community Engagement

Global Awareness

Sustainabilit


If you want a list of classes for the chosen pathway that are open and being taught for the term, keep the Show Open Classes Only checked. If you want to see the entire list, including courses in waitlist status, for the selected pathway, uncheck the box for Show Open Classes Only.


You may further narrow your search results by searching for courses by using Additional Search Criteria. Click on the green arrow to the left of Additional Search Criteria to view the options. Fill in fields that meet your needs.

If too many criteria are entered, you may not see any courses.




After all the criteria has been chosen, click on the green Search button.


When the list is shown, the criteria for your list is shown at the top.

Some courses are only taught in the Spring or the Fall, so to find the entire list of courses to meet a General Pathway Certificate requirement, check the Undergraduate Course Catalog under Pathway Certificates:
Back to top of page.