Mid-Term Attendance Requirement
Faculty are required to record student attendance at various points throughout the semester, including around the mid-point of the term, as required by the department of education.
The attendance fields are required and include: indicating whether or not the student is in good attendance, and providing the last date of attendance for students NOT in good attendance, and the mid-term grade for each student.
To help support students, we have added an additional optional field to the rosters that allow faculty to indicate if a student would benefit from some additional outreach from the student success team to offer academic development skills, or access to resources.
Tile navigation: On your Faculty homepage, click the Student Alert & Attendance Tile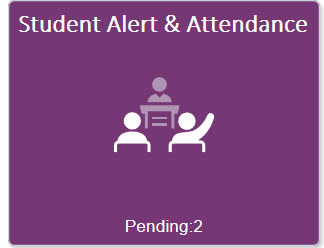 View information about the student alert option and attendance requirement and a list of your available rosters.

Courses will only display between the course start & end date. .

Select from the list of available courses.
Attendance Requirement
Note the attendance due date: the Attendance Requirement fields must be completed and submitted by 11:59 pm on the due date.
Faculty must indicate if students have had a minimum of 2 graded assessments towards their mid-term grade.

To record "No" as your answer, you must click the response area twice.

Faculty must indicate if students are in good attendance by selecting Yes or No from the drop down.

If the student is not in good attendance, a last date of attendance must be provided.

A specific mid-term grade must be provided for all students.

Mid-term grades are now required for all students, regardless of their attendance status. Select the student's current letter grade from the mid-term grade dropdown.

Once attendance has been entered for all students, click submit (located on the bottom right).

Optional Academic Alerts
Faculty may also note success concerns they have for a student and if they believe a student would benefit from some additional outreach from the student success team.
Helpful hints:
Use the scroll within the attendance roster to complete attendance for all students.
Expand your view of the page by hiding the class details and/or by hiding the menu on the left side of the screen.

To sort the roster, click on the up-down arrows located under the number of rows.

Select your sort preference from the dropdown.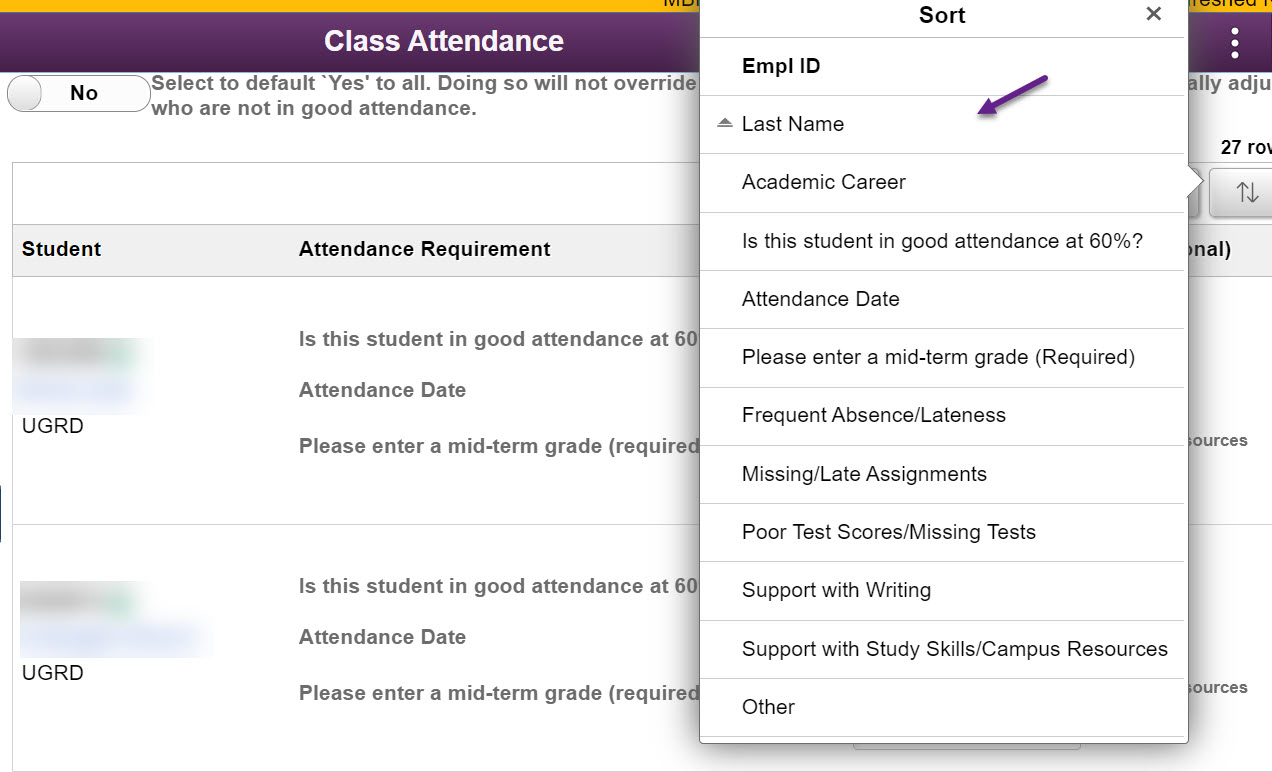 Content Manager: AES
Back to top of page.