Order an Official Transcript
For students who attended WCU during or after 1985
Current and former students (who attended during/after 1985) must log into myWCU to order an official transcript. Students will access the Parchment storefront from myWCU.
Tile navigation: Student Homepage > Order Official Transcript
This link will open the Parchment storefront in a new browser tab.

Students with certain holds on their account will not be able to access the ordering page until the holds are removed.
First Time Accessing Order Page
Students accessing the ordering page for the first time will be asked to review and/or update name and contact information.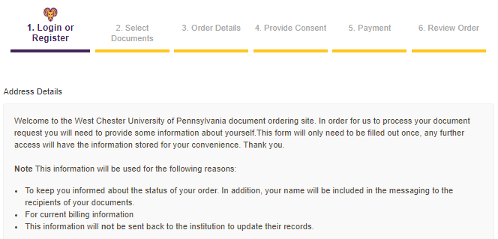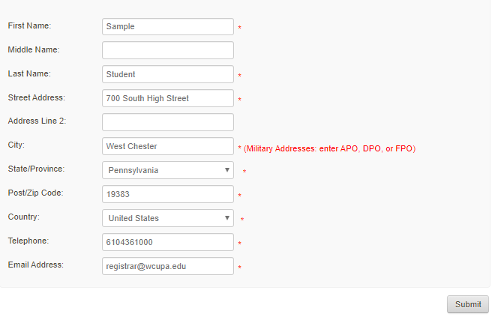 Select Document Type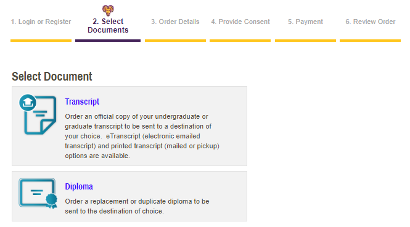 Order Official Transcripts
Search for the recipient or the destination you'd like your document sent or click the link under the search box to manually enter the name and address of your recipient.

Search for your destination
Within the search box, enter the name, part of the name, or the abbreviation of the organization or institution where you would like your transcript sent.
Click Search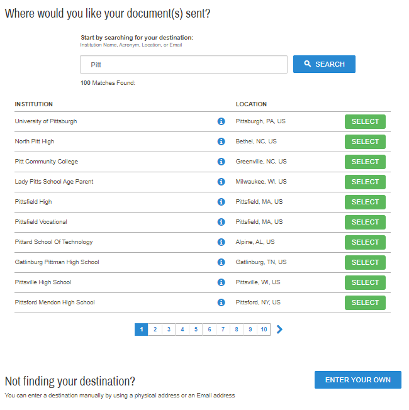 Review/Select from the available options.

If you do not see your destination, click "Enter your Own" to manually enter the name/contact information of your recipient.

Review information about the product/transcript you are having sent, review the destination of your document, identify the reason for your request, and click Continue.

If you need to attach a document to your order, click "Choose File" at the bottom of the page.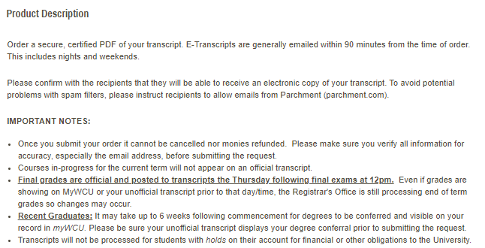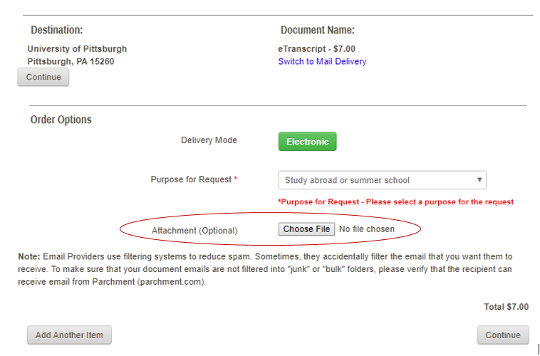 Enter your Destination/Recipient Information
Click "Send to Yourself, Another Individual, or Third Party" located under the search box or "Enter Your Own" on the search results page.

Select from the available document types: eTranscript, Paper Transcript – Mailed, Paper Transcript – Pickup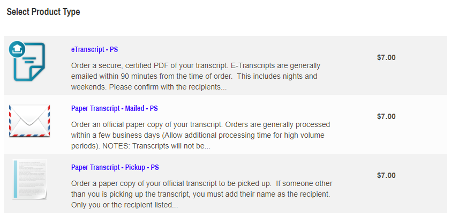 Review product information, enter recipient name and email or physical address, identify the reason for your request, and click Continue.
Attachments
Students ordering eTranscripts and Paper Transcripts – Mailed have the option to include an attachment to be sent with their official transcript.
Under Order Options, view Attachment (Optional)
Click Choose File: search files from your device
Identify Attachment Type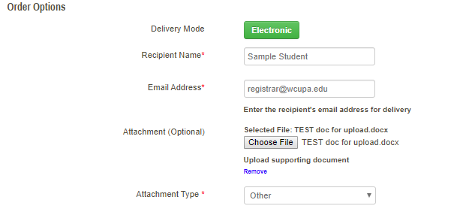 Paper Transcript – Mailed: Fed Ex Option
Students ordering paper transcripts to be mailed now have the option to overnight their order via Fed Ex
Under Order Options, view Mailing Method

The dropdowns vary for the Mailing Country: domestic or international.

Select Fed Ex delivery
To ensure next day delivery, orders must be placed by 4 pm eastern time.
Provide Consent
First time requestors who have not previously signed the FERPA consent page will be directed to do so. Please review the policy and using your mouse sign in the box provided.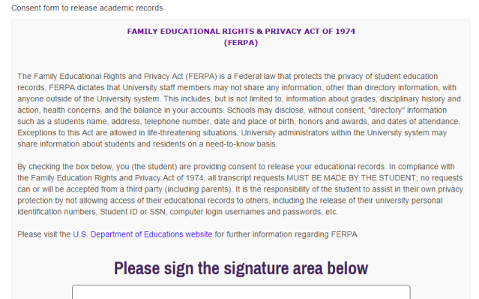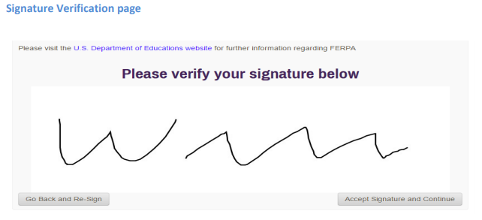 Returning requestors will see the following:

Payment
Enter payment information and confirm/update billing address.
Review Order & Confirm
Review your order and payment information. Click confirm to submit your order.
Content Manager: Registrar's Office
Back to top of page.