Fall 2020 Roll-Over/Banked Credits

Undergraduate students who enrolled in 12 to 17.5 credits during the fall 2020 semester will be able to roll over unused credits from the fall to either the winter 2020-2021 or summer 2021 sessions. Rolled-over credits are the difference between eligible student's attempted/enrolled credits and the 18-credit full-time registration limit. Follow the instructions below to see/track your rolled-over/banked credits.
Log into myWCU and click on the Classes tile

If you have available roll-over/banked credits from the fall 2020 semester, they will appear on your Classes landing page.

Available roll-over/banked credits are also listed on the Enrollment Dates page with your winter enrollment time.

Click Enrollment Dates
Select 2020.2021 Winter Session
Click Continue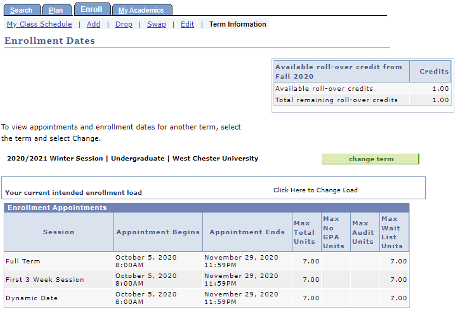 Available roll-over/banked credits will adjust as students enroll in winter session courses or adjust fall semester enrollment.

Content Manager: AES
Back to top of page.