Upload Vaccination Card
Students are encouraged to submit record of their COVID-19 immunization. By providing your COVID-19 vaccination record, residential students will be exempt from campus testing requirements as part of the university's health and safety plan. Non-residential students, or commuter students, who provide proof of vaccination will not be included in the university's randomized testing plan.
Tile navigation: From the Student Homepage, click on the Upload Vaccination Card tile.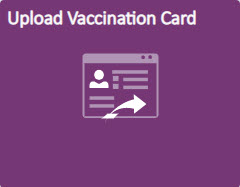 Enter the type of vaccination record that will be uploaded by clicking on the down arrow to make a choice.



Enter the date your most recent vaccine shot was administered

. Type the date in using MM/DD/YYYY format or search using the calendar icon. If the vaccination type is your initial dose, please indicate whether it completes you initial vaccination.

If your latest vaccination is a "booster", your status will be automatically set to fully vaccinated and only the date of the administration is needed.


To upload the image of your vaccination record, click on the Upload File button. You only need to include the side with your name, date of birth, and vaccine information.
Click the My Device button to search your computer or phone for the image or file containing your vaccination record.

Click the Upload button once the correct file has been listed. Upload Complete will be shown in the bottom right corner if the upload has been completed successfully. Click the Done button to return to the Student Vaccination Submission Screen.

The date of your latest vaccination record will be shown.

Content Manager: Academic & Enterprise Systems
Back to top of page.