Equity Access Inclusion and Diversity Initiatives (EAIDI) Committee
EAIDI: Who We Are
The Committee for Equity, Access, Inclusion, and Diversity Initiatives (EAIDI) was created to support WCU's College of Arts and Humanities in its commitment to increasing diversity, access, inclusion, and equity within our community. The committee's main role is to advise the Dean of the College of Arts and Humanities on strategies to address these issues, including the celebration of achievements; education and support of students, faculty, staff, and administrators; and improving the climate of the college.
Over the last XX years, we have worked to provide faculty with grant funding for essential projects related to these goals, ultimately helping our college and greater campus community grow toward a more equitable and sustainable future.
EAIDI is especially interested in supporting initiatives that contribute towards institutional priorities which include closing the equity gap between White students and BIPOC students; increasing the graduation rate and/or the second fall retention rate for BIPOC and other historically marginalized student populations; creating inclusive classroom and campus climates, and supporting the access mission of the University. Grant applications need to demonstrate that the proposal functions in alignment with EAIDI's principles.
Equity, access, inclusion, and diversity are understood to work in many spheres, including pedagogical, research, community outreach, and co-curricular activities.
EAIDI's principles emerged from a need to center and ground our conversations and deliberations as a committee in relation to grants and the larger political climate both on- and off-campus. Through discussions regarding the colonizing language of the academy, as well as how white supremacy functions in our institution and beyond, it became clear that we needed to, as a committee, be engaged in conversations with one another about how we might engender change on this campus in the interest of social justice and liberation.
Tier 1: Major Grant
Tier 1 grants are well developed with clear budget needs and deliverables. This tier also has the highest requirements and expectations for the grant application.
Tier 2: Seed Grants
This new tier targets EAIDI-eligible projects that are not yet fully developed but could become so with a "seed" investment of time and resources, or great ideas that simply need less money. Tier 2 projects have lower requirements for grant applications, which will hopefully encourage more applications and result in more EAIDI-related activity. Again, proposals must demonstrate explicit engagement with the EAIDI principles.
Tier 3: EAIDI Rolling Discretionary Fund
Another NEW tier designed to encourage EAIDI-related projects. The EAIDI Committee, through its chair, can approve small funding amounts to pay for or to reimburse (within 20 days) expenditures involving EAIDI-related activities for students or outside speakers/guests.
*See RFP for full details on tier requirements.
As a new initiative, the EAIDI Committee has started granting EAIDI Excellence Awards to faculty in the College of Arts and Humanities whose teaching, research, and service reflect and advance the principles of this committee. The nomination must highlight research & scholarship, service, and pedagogy to be recognized and how these aspects of their work align with the EAIDI principles.
*See RFP for full details on nomination requirements.
You can find the full RFP with instructions on how to apply in our College's SharePoint site. If you have any questions at all, do not hesitate to reach out to the committee at EAIDI@wcupa.edu. We are here to help you develop a successful proposal for a successful project.
Want to get involved?
Consider serving on the EAIDI Committee!
This committee within the College of Arts and Humanities thrives on the expertise of faculty who have experience working closely with issues related to equity, access, inclusion, and diversity. This committee could also be a good opportunity for faculty who want to learn about and support equity and diversity in the college. Email EAIDI@wcupa.edu to learn how you can get involved!
Current Committee Members
Emily Aguiló-Pérez
Camilo Diaz Pino
Daniela Johannes
Liam Lair
Jeremy McCool
Adebayo Oluwayomi
Scotty Reifsnyder
Ana Sanchez
Justin Sprague
Kuhio Walters
Past Project Features
Photography and Writing (PAW) Program
PAW is an innovative program that uses the teaching of photographic and art techniques to strengthen self-expression and build writing skills during the summer, with a student population of rising 5th-graders that has self-identified as ESL and/or new to the US. Foundational to our work is reaching across student's' experiences in various contexts (families, schools, communities) to create relevant and rooted lessons. Our organizational model creates tangible, sustainable connections between WCU and our local school districts, allowing for communication between the various waypoints in a student's journey between elementary school and college. PAW hires two undergraduate mentors each summer to help run the program, to connect personally with the 5th-graders, and to share positive, uplifting stories about life in college.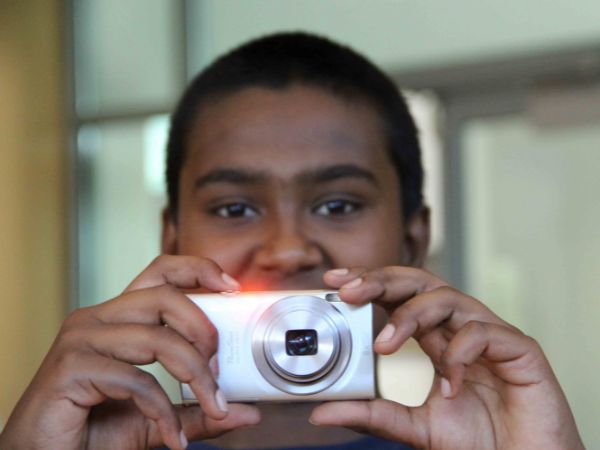 iCamp Program
iCamp Academy is a week-long residential summer media camp for Philadelphia High School Students at WCU. iCamp Summer Academy invites high school students from Philadelphia, to use their talents in digital media to facilitate change and shed light on community development and social issues. iCamp offers a one of kind experience, that exposes high school students to life on a college campus, connects artistic expression and being a catalyst for change, and deepens the symbiotic relationship between WCU and our region's population and economic center. Four media tracks include: Video production, Audio production, Web development, Game development.