Ayannah Stanton '21
Major: BA: Languages & Cultures, Spanish with Teaching Ed Certification
Minor: Latinx Studies
Hometown: Gilbertsville, PA
Why did you choose to attend WCU and/or your area of study at WCU?
I chose WCU because I loved the diversity, the welcoming environment, and the student involvement I saw on campus. I also loved the fact that WCU was a community that felt familiar and like home.
What do you plan to do after graduation?
I have a high-school Spanish teacher position at a local school district which starts in August!
What is a typical day like for you?
A typical day for me is student teaching in Springfield Township, Pa, working as an intern for the College of Arts and Humanities creating digital content, and working with children or at the Disney store or shipping orders for my business!
What advice would you give to a prospective WCU student?
Get involved and take risks! Don't be afraid to try new activities or meet new people outside your norm and comfort zone. Your time at the university is the time to make connections, discoveries, and learning everything about yourself!
What makes our college stand out to you?
The College of Arts & Humanities has the best faculty and courses that any university has to offer. The CAH faculty really cares about their students and their learning experience, wants to see them thrive inside and out of the classroom, and forms long-lasting bonds with students which is something I haven't experienced at other colleges and universities I attended previously.
While attending WCU, have you completed an internship and/or study abroad? If so, briefly describe those experiences.
I have studied abroad in Barcelona during the Summer of 2019 with Dr. Maria Van Liew with the Institute of American Universities in which I took classes about advanced Spanish cinema, advanced Spanish literature, and Urban geography, traveled throughout the region of Catalunya and Seville, met new people from all over the world, and formed an everlasting bond with my host mother.
This semester, I have worked as the Equity Communications Coordinator for the College of Arts and Humanities delivering content which featured student organizations on campus, current events related to CAH, and spotlighting student achievements. I even had the privilege of being a student host in WCU's re-accreditation conference.
What is your favorite memory so far as a WCU student and/or in our college?
My favorite memory as a WCU student was joining the Spanish Club and creating relationships with faculty, staff, other students, and members of the community.
What's the most interesting thing about you that we wouldn't learn from your resume alone?
I used to be a Selena Quintanilla tribute artist throughout my undergraduate years!
Are you involved in any organizations on and off-campus? If so, please list them and why you decided to become involved with each organization.
I love Spanish/Hispanic cultures as well as the language and I wanted to be a part of an organization which would allow me to celebrate and exercise my interests as well as explore other aspects outside the classroom amongst my peers. I served as Spanish Club's President from 2019-2020.
I joined Sexuality & Gender Alliance because I struggled with accepting my Sexuality growing up and this organization and group of students accepted me and welcomed me as their friend from the moment we met. SAGA & the CTQA is AMAZING!
This semester, I became a member of Zeta Phi Beta Sorority, Inc., Theta Lambda chapter because I adored this organization, formed real bonds with the members, and personally believed in the sorority's principles of scholarship, service, sisterhood, and the ideal of Finer Womanhood. The ladies in this organization have helped me gain more confidence, exposed me to professional and career development, encouraged scholarship, and allowed me to service the West Chester community.
I was inducted into Kappa Delta Pi International Honor Society in Education, Sigma Delta Pi National Collegiate Hispanic Honor Society and Alpha Mu Gamma National Collegiate Foreign Language Honor Society for my outstanding academic achievement in the College of Education, and Spanish Department at WCU.
Lastly, I joined the Pennsylvania Domestic Workers Alliance because I worked as a nanny/childcare provider throughout my last 2 years at WCU!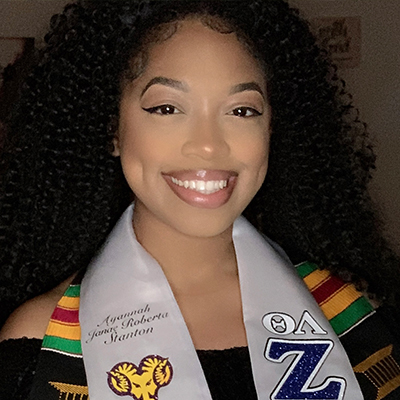 BE IN THE KNOW
Subscribe to receive special event invitations, alumni updates, and news about faculty and students!
Access additional student spotlights from the College of Arts and Humanities.
Back to top of page.