Emma Piccinini '21
Major: BA: English
Minor: Business & Technical Writing
Hometown: Jamison, PA
Why did you choose to attend WCU and/or your area of study at WCU?
I have loved writing since I was about 15 years old. I started writing when I began to struggle with my mental health and used it as a coping mechanism. It soon turned into a passion of mine and I wanted to enhance my skills further at WCU.
What do you plan to do after graduation?
I plan to find a job in some kind of business writing whether that be copywriting, medical writing, grant writing, etc.
What is a typical day like for you?
A typical day for me includes attending my classes, working out, making time for homework, and having some free time whether that be writing in my journal, reading a book, or watching my favorite TV show.
What advice would you give to a prospective WCU student?
The best advice I have for prospective students, especially in the College of Arts and Humanities is to be confident in yourself and in your area of study. There will always be people who try to diminish your degree but I promise you that no matter what degree you choose at WCU, you will find so many opportunities with it.
What makes our college stand out to you?
WCU stood out to me because it really emphasized its love for all majors of all colleges. I was a bit nervous declaring a major in English because I wasn't sure I could do anything with it and I didn't know if WCU would guide me in the right direction, but all of my professors and advisors have done exactly that. I also loved how beautiful the campus of our school was. I needed something that felt like a home away from home. I love being outside and being close to town, this campus is perfect for going on walks, having a picnic on the Quad and so much more.
While attending WCU, have you completed an internship and/or study abroad? If so, briefly describe those experiences.
While attending WCU I completed an internship with the WCU Poetry Center. I worked closely with the director Dr. Cherise Pollard and a member of the Dean's staff, Cyndy Pilla as I created social media posts for events such as craft talks, readings, and festivals as well as PR for the Iris N. Spencer poetry awards.
What is your favorite memory so far as a WCU student and/or in our college?
I think my favorite memory as a WCU student has been working with the ambassadors. I have only been an ambassador for a single semester, but I was accepted into the program at a time when I felt really isolated and alone, so it was the perfect way to stay busy and make some lovely new connections with the other people in the program.
What's the most interesting thing about you that we wouldn't learn from your resume alone?
I am a mental health and body neutral advocate. I am really passionate about being open and honest about my own mental health and body image issues in order to help and support others who may not feel as comfortable being open with their own issues, but still deserve to feel their best and have access to mental health care.
Are you involved in any organizations on and off-campus? If so, please list them and why you decided to become involved with each organization.
I was a part of Her Campus for three semesters as a Senior Editor, but sadly I had to part ways for this past semester due to my busy schedule. I chose to become involved with this association because I am passionate about women's empowerment and I am also interested in editing others work in terms of articles,
I am a part of the radio club, WCUR here at WCU. I chose to join this organization because I enjoy listening to music and crafting playlists for others to hear. Plus, I had a show with my boyfriend so it was a great way to spend some quality time with him while also being involved.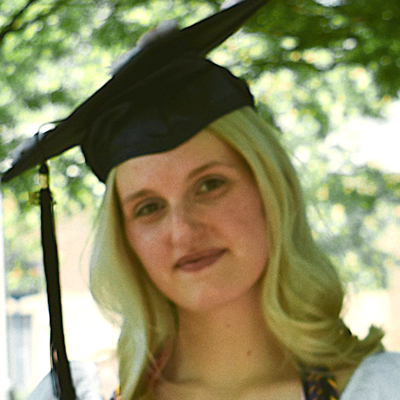 BE IN THE KNOW
Subscribe to receive special event invitations, alumni updates, and news about faculty and students!
Access additional student spotlights from the College of Arts and Humanities.
Back to top of page.