Theme Speakers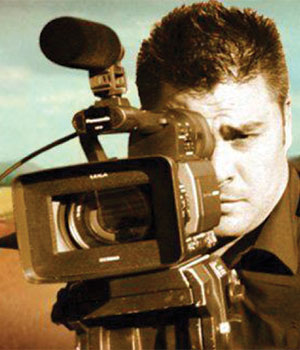 Tentative Schedule: 12:30-1:45pm Thursday September 15, Sykes Theater
"Luis Carlos Davis is a voice you've never heard, with stories that seem incomprehensible. He has now become the first-ever filmmaker to gain the confidence of a coyote -- those faceless smugglers who charge exorbitant fees to cross people over the border into the United States, and his film is, unbeknownst to most Americans, at the heart of this immigration controversy."
-The Huffington Post
Director, Producer, Cinematographer, Composer and Editor
Luis Carlos Davis is an award winning film director/producer. He was born and raised in the border towns of Ambos Nogales, also known as the twin sisters of Nogales, Sonora and Arizona. His life is a product of two countries, two cultures, and two languages. Davis was chosen as 2010 Man of the Year of Southern Arizona. He was recently selected by the Spanish Embassy and Fundacion Carolina as one of the ten leaders from the United States to visit Madrid, Bilbao, Vitoria and San Sebastian to learn about the culture, politics, economics and social issues of Spain and explore the international relationship between the U.S and Spain. His film projects have been exhibited in Mexico, the U.S, Chile, Colombia, and Europe. Davis was also being nominated for the 2013 U.S.-Mexico Cross-Border Innovation and Cooperation Awards. He was selected to participate in the Guadalajara Talent 2015 as a film director. In 2016 he received his Ph.D. from the University of Arizona. Currently, Davis is working on two projects one titled The Monster and the second one Luz.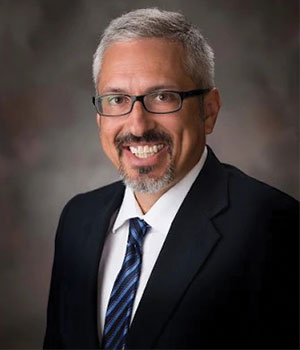 Dr. Aaron Dominguez has recently accepted a position at The Catholic University of America in Washington DC (CUA) as Dean of the School of Arts and Sciences and is also an Ordinary Professor of Physics. Previously, he was the Associate Dean for Research and Global Engagement and a Full Professor of Physics and Astronomy at the University of Nebraska — Lincoln (UNL). Dr. Dominguez, whose area of research is experimental high energy physics, has a strong history of research and grant activity, including a National Science Foundation (NSF) CAREER grant, continuous funding for the past twelve years and a recent cooperative agreement with the NSF for $11.5 million. As part of this award, Dr. Dominguez leads a team that includes researchers from ten universities in the construction of the next generation of particle detectors for the group's Compact Muon Solenoid experiment at the Large Hadron Collider operated by the CERN Laboratory in Geneva, Switzerland.
Dr. Dominguez is also committed to increasing representation of Latinos in the sciences. Dr. Dominguez created a mentoring program pairing high school students with English language learner children in local elementary schools in Lincoln, NE that was initially funded by UNL, and later by the NSF and Lincoln Public Schools. He also founded a similar mentoring program for Latino children in the Chicago area while working at the Fermi National Accelerator Laboratory as a Lawrence Berkeley National Laboratory postdoctoral fellow.
Redemption of a Latino Gang Member*
Name: Former Latino Gang Member (Name will be given at presentation)
From: The West Coast
Meet and listen to a former Latino gang member and career criminal who served over 17 years in prison for multiple gang-related homicides, primarily in California. From being a highly respected and feared gang member to a U.S. government informant, this is a story of redemption. This former gang member will share his personal journey from growing up in a Latino neighborhood, dealing with stereotypes and cultural differences, to the challenges of street/prison gang life and being institutionalized in American prisons. He will explain how gang members exploit and influence today's youth and how destructive street gangs are to communities and families. He will also discuss how the police and prison officials deal with a growing Latino gang population in the United States.
You will hear unprecedented access and insight to a world unlike any other. Once viewed as a naïve young man, our speaker became an institutionalized sociopath. His story is filled with destruction, heartache, and sorrow. However, he was able to pull out of his personal tailspin and found redemption. Today, he gives back.
*Please be advised that we will not allow audio or video recordings or photographs taken of this presentation or the presenter.
Back to top of page.