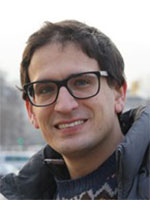 Cristóbal Cardemil-Krause
Department Chairperson
Associate Professor of Languages
M.A., Ph.D., Rutgers University
B.A., Pontificia Universidad Católica de Chile
Mitchell Hall 223

610-436-2372
Research Interests
General Literature in Spanish
General Literatures from Brazil
Cultures of Latin America
Indigenous and

Regionalista

Literatures of Latin America
Literature from the Southern Cone
Space, Violence, and Post-Colonial Theory
Classes Regularly Taught
SPA 101, 102, 201, 301, 444, 512
ESP 310, 311
Recent Publications/Activities
Taller de Letras (2012): "Deconstrucciones discursivas en Edipo entre los inkas de César Calvo"
NeMLA 2012: "Buscando la nación en la Amazonía peruana"
LASA 2013: "In the Swim: nación, capital y horror en el Putumayo"
NeMLA 2013: "Las fronteras del Putumayo: La vorágine de José Eustasio Rivera como herramienta diplomática
SAMLA 2013: "O turista aprendiz: ¿obra en colaboración?"
ACLA 2014: "Early 20th Century National Representations of the Amazon and the Politics of Space."
NeMLA 2014: "Canaima: una perspectiva venezolana de la Amazonía gomera."
LASA 2014: "Cuando las palabras no dan: La obra pictórica de Brus Rubio y la recuperación de (O)tra historia oficial."
SAMLA 2014: "Modernizing the Jungle: Modernity and Future Sustainability in Rómulo Gallegos's Canaima."
PADLA 2014: : "Making Asynchronous Online Instruction Worth the While."
West Chester University Research Day 2015: "Hildebrando Fuentes's Peruvian Amazon: National Integration and Capital in the Jungle, 1904-1905"
RECAP 2015: "Best Practices to Designing Online Courses that Will Engage"
Read More…