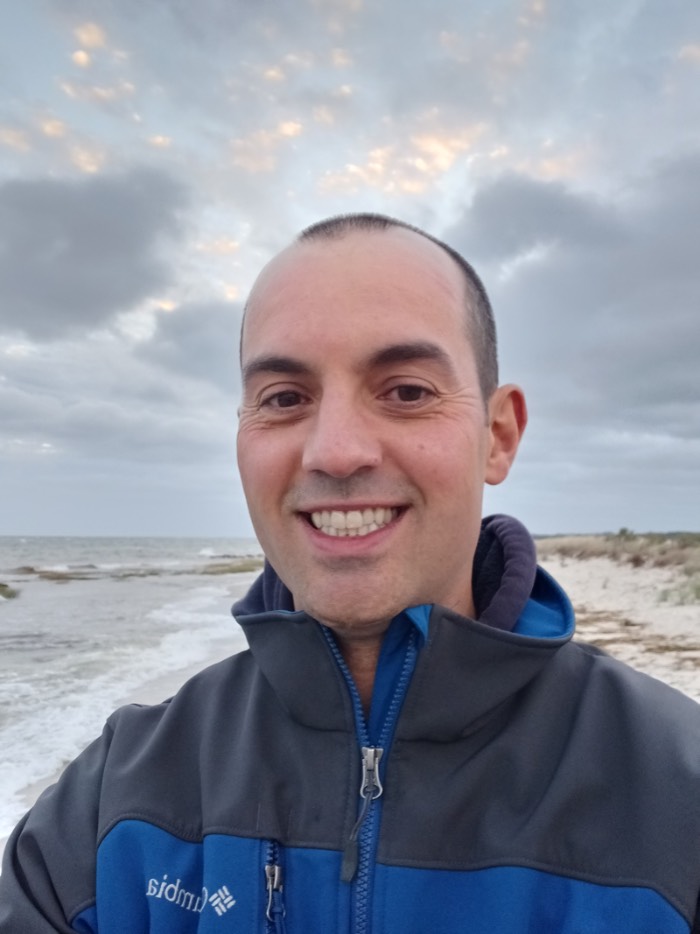 Israel Sanz-Sánchez
Ph.D., University of California, Berkeley
M.A., San Diego State University
B.A., Universidad de Valladolid
Mitchell Hall 126

610-436-3584
Research Interests
Spanish linguistics
Historical Dialectology
Sociolinguistics
Spanish in the United States
Documentary Evidence of the Spanish Presence in the US Southwest
Language Ideologies
Courses Taught (only WCU listed)
Language Courses
SPA101 (

Elementary Spanish

, 1st semester)
SPA102 (

Elementary Spanish

, 2nd semester)
SPA201 (

Intermediate Spanish

, 1st semester)
SPA202 (Barcelona 2013) (

Intermediate Spanish

, 2nd semester)
SPA302 (Barcelona 2013) (

Advanced Spanish Grammar and Conversation

)
Linguistics and Culture Courses
LIN211 (

Language Communities in the United States and Canada

)
LIN/ENG230 (

Introduction to Linguistics

)
SPA365 (

Spanish Phonetics

)
SPA370 (

History of the Spanish Language

)
SPA557 (

History of the Spanish Language

- graduate)
ESP318 (

Speaking Spanish in the United States

)
ESP324 (

Latin@s in the United States

)
Literature Courses
SPA315 (

Advanced Readings in Spanish

)
Recent Publications/Activities
Co-edited books
Sanz-Sánchez, Israel, Susana Rivera-Mills, Regina Morin (eds.). 2017.

Online Language Teaching Research: Pedagogical, Academic and Institutional Issues. Corvallis, OR.: Oregon State University Press/Trysting Tree Books. ISBN: 978-0-9996872-0-8
Sanz-Sánchez, Israel, and Heather Bamford (eds.). 2008.

Jerry R. Craddock.

Palabra de rey: Selección de estudios sobre legislación alfonsina.

Salamanca: Seminario de Estudios Medievales y Renacentistas. ISBN: 978-84-934697-0-2
Scholarly editions
Kania, Sonia, Cynthia Kauffeld, and Israel Sanz-Sánchez (eds.). 2017.

Text and Concordances of the

Relación de la jornada de Cíbola,

by Pedro Castañeda de Nájera (1596)

(New York Public Library, MssCol 2570, no. 63). New York: Hispanic Seminary of Medieval Studies. ISBN: 978-1-56954-157-9
Peer-reviewed papers and chapters
Sanz-Sánchez, Israel. (forthcoming). "Historical orthography and language contact." In The Cambridge Handbook of Historical Orthography. Hanna Rutkowska and Marco Condorelli (eds). Cambridge: Cambridge University Press.
Sanz-Sánchez, Israel, and Fernando Tejedo-Herrero. 2021 (forthcoming). "Adult language and dialect learning as simultaneous environmental triggers for language change." In Spanish Socio-Historical Linguistics: Isolation and Contact. Whitney Chappel and Bridget Drinka (eds). Amsterdam: John Benjamins.
Sanz-Sánchez, Israel. 2019. "Documenting feature pools in language expansion situations: Sibilants in early colonial Latin American Spanish." Transactions of the Philological Society 117:2: 199-233.
Morin, Regina, and Israel Sanz-Sánchez. 2017. "Conclusion: The Future of Online Language Teaching Research". In

Online Language Teaching Research: Pedagogical, Academic and Institutional Issues. Israel Sanz-Sánchez, Susana Rivera-Mills, and Regina Morin (eds.), 173-180. Corvallis, OR.: Oregon State University Press/Trysting Tree Books.
Sanz-Sánchez, Israel. 2016. "A diachronic perspective on Latin American verbal morphology: Reassessing the role of koineization"

Diachronic Applications in Hispanic Linguistics. Eva Núñez-Méndez (ed.), 239-81. Newcastle-upon-Tyne: Cambridge Scholars.
Sanz-Sánchez, Israel. 2016. "Second person forms of address in New Mexican Spanish, 1687-1936.",

Forms of Address in the Spanish of the Americas. María Irene Moyna and Susana Rivera-Mills (ed.), 63-85. Amsterdam: John Benjamins.
Sanz-Sánchez, Israel. 2014. "Como dicen los americanos

– Spanish in contact with English in territorial and early statehood New Mexico".

Spanish in Context

11.2: 221-42
Sanz-Sánchez, Israel, and Laura Verrekia. 2014. "Explicit critical language awareness: What are we really doing in our linguistics courses?". International Journal of the Linguistic Association of the Southwest 33.2: 1-37.
Sanz-Sánchez, Israel. 2013. "Diagnosing dialect contact as the cause for dialect change – Evidence from a palatal merger in colonial New Mexican Spanish".

Diachronica

30.1: 61-94
Sanz-Sánchez, Israel. 2013. "Variedades de español en contacto en el Nuevo México colonial."

Romance Philology

67: 317–68
Sanz-Sánchez, Israel. 2013. "Morphological simplification in Latin American Spanish: the demise of

–se

and the triumph of

–ra

in the past subjunctive."

Spanish and Portuguese across Time, Place, and Borders.

Laura Callahan (ed.), 161-82. New York: Palgrave.
Sanz-Sánchez, Israel. 2011. "Juan Jaramillo's

Relación: A philological reassessment of the historical approaches to a document of the Coronado expedition"

New Mexico Historical Review

86.1: 21-81
Villa, Daniel, and Sanz-Sánchez, Israel. 2011. "The genesis of Traditional New Mexican Spanish: The emergence of a unique dialect in the Americas".

Studies in Hispanic and Lusophone Linguistics

4.2: 417-42.
Sanz-Sánchez, Israel. 2011. "Analogical imperfects and the fate of Iberian verbal morphology in Latin American Spanish."

Southwest Journal of Linguistics

30.2: 55-99
Sanz-Sánchez, Israel. 2009. "Creatividad léxica en una jerga gay de la frontera México-Estados Unidos"

Hispania

92.1: 142-54
Peer-reviewed book reviews
Schwegler, Armin, John McWhorter and Liane Ströbel, eds.

The Iberian Challenge: Creole

Languages Beyond the Plantation Setting. Madrid/Frankfurt: Iberoamericana/Vervuert, 2016

Hispania

101.1 (2018): 165–7.
Stolova, Natalya I.

Cognitive Linguistics and Lexical Change: Motion Verbs from Latin to Romance. Amsterdam/Filadelfia: John Benjamins, 2015.

Revista de Filología Hispánica

34.1 (2018): 430-5.
Avilés, Tania.

Letras del desierto: Edición de un corpus epistolar para su estudio lingüístico. Región de Tarapacá, Chile, 1883-1937.

Santiago de Chile: Editorial Cuarto Propio, 2016.

Journal of Historical Sociolinguistics

3.2 (2017): 309-12.
Hess, Steven.

Ramón Menéndez Pidal: The Practice and Philology in Twentieth Century Spain. Newark: Juan de la Cuesta, 2014.

Hispania

99.2 (2016): 356-7.
Del Valle, José, ed.

A Political History of Spanish: The Making of A Language. Cambridge/New York: Cambridge University Press, 2013.

Hispania

98.1 (2015): 175-7.
Eva Núñez Méndez.

Fundamentos teóricos y prácticos de historia de la lengua española. Yale University Press, 2012.

Hispania

97.3 (2014): 527-9.
Cullinan, Danica, and Walt Wolfram.

Spanish Voices: Spanish and English in the Southeastern United States. Raleigh: The North Carolina Language and Life Project, North Carolina State University, 2010. DVD.

Hispania

95.4 (2012): 768-9.
Garland, Bills, and Neddy Vigil.

The Spanish Language of New Mexico and Southern Colorado: A Linguistic Atlas. Albuquerque: University of New Mexico Press, 2008.

Romance Philology

63.2 (2009): 171-84.
Cifuentes, Bárbara.

Lenguas para un pasado, huellas de una nación: los estudios sobre lenguas indígenas de México en el siglo XIX.Mexico City: Instituto Nacional de Antropología e Historia, 2002.

Dimensión Antropológica

30 (2004): 145-9.
Back to top of page.