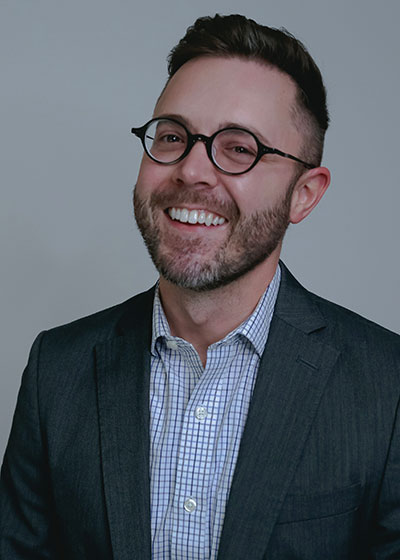 Jason Bartles
Spanish Coordinator
Associate Professor of Languages
M.A., Ph.D., University of Maryland, College Park
B.A., Gettysburg College
Research Interests
Contemporary Latin American Literary, Film, and Cultural Studies
Critical Theory
Creative Writing
Avant-Gardes and Mass Media
Science Fiction, Post-Apocalyptic Narrative, and Utopian Thought
Revisions and Re-inscriptions of the Nineteenth Century
U.S. Latinx Literatures and Cultures
Gender and Queer Studies
Translation
Courses Offered
Graduate:
LNC 503: Cultural Studies
SPA 556/557 Seminar Topics Included:
Contemporary Latin America: Politics and Aesthetics since 1959 (Summer 2016)
Contemporary Latin America: The Avant-Gardes, Then and Now (Summer 2018)
Latin American Women Writers (Summer 2019)
The Utopian Impulse in Latin America (Spring 2020)
Undergraduate:
Elementary, Intermediate, and Advanced Spanish
LNC 368: Comparative Cultural Studies
SPA 315: Advanced Readings
SPA 321: Cultures of Latin America
SPA 331: Latin American Narrative
SPA 456/457: Senior Seminar in Hispanic Literary, Film, and Cultural Studies
General Education and Culture Cluster Courses:
LNC 100: Discover the World on Film (Humanities)
LNC 105: Global Science Fiction (Humanities and Writing Emphasis)
LNC 106: Global Fantasy Fiction (Humanities and Speaking Emphasis)
ESP 316: Latin American Avant-Gardes and Mass Media (CC, J, I)
ESP 317: Utopia and the Apocalypse in the Americas (CC, ET, I)
ESP 324: Latinxs in the United States
ESP 334: Politics and Economics in Latin American Literature and Film Publications
Book
ARTELETRA: The Sixties in Latin America and the Politics of Going Unnoticed. Purdue Studies in Romance Literatures, Purdue University Press, 2021.
PUBLICATIONS: BOOK CHAPTERS
"Deserted Islands for the Nation: Empty Land- and Seascapes in Argentine Films of the Malvinas/Falkland Islands." The Film Archipelago: Islands in Latin American Cinema, edited by Francisco-J. Hernández Adrián and Antonio Gómez, World Cinema Series, Bloomsbury Press, 2022. 31–54.
"La ética de exponerse en De miedo en miedo de Armonía Somers." Invited book chapter in La escritura de Armonía Somers. Pulsión y riesgo. Ed. María Cristina Dalmagro. Sevilla: Editorial Universidad de Sevilla, 2019.
"Farmworkers' Theater," "Flor y canto," "Rebozo," and "Vegigantes." Celebrating Latino Folklore: An Encyclopedia of Cultural Traditions. Ed. Maria Herrera-Sobek. Santa Barbara, CA: ABC-CLIO/Greenwood P, 2012. 489, 496, 975–976, 1119–1120.
PUBLICATIONS: PEER-REVIEWED ARTICLES
"Navigating Uncertainty: The Ambiguous Utopias of Le Guin, Gorodischer, and Jemisin." Utopian Studies 33.1 (2022): 107–126. Penn State University Press.
"Byung-Chul Han's Negativity; or, Restoring Beauty and Rage in Excessively Positive Times." Forthcoming in CR: The New Centennial Review 21.3 (2021). Michigan State University Press.
"Héctor Manjarrez's Uncertainty; or, Politics without Dogma." Revista de Estudios Hispánicos 53.3 (2019): 923–946. Washington University in St. Louis, Johns Hopkins Press.
"Calvert Casey's Wasted Narratives." Revista Hispánica Moderna 70.1 (2017): 19–35. Columbia University, University of Pennsylvania Press.
"La alegoría errante de la torre-cueva de Juan Filloy." Revista Iberoamericana 82.254 (Jan-Mar 2016): 213–228. IILI, University of Pittsburgh.
"Gauchos at the Origins: Lugones, Borges, Filloy." Variaciones Borges 40 (2015): 133–152. Borges Center, University of Pittsburgh.
"A Queer Chicana/o Ethics of Representation: Rasquache Camp in the Novels of Rechy and Luna Lemus." Aztlán: A Journal of Chicano Studies 39.1 (Spring 2014): 105­–132. UCLA, Chicano Studies Research Center.
Fiction
"No Worries." Daily Science Fiction. (Forthcoming 2022)
"The Bent Greens." In The World's Revolution: Gaia Awakens, edited by C. D. Tavenor, Two Doctors Media Collaborative, 2021. Pp. 93–119.
"Leiprenese 101." Metaphorosis: Beautifully Made Speculative Fiction, edited by B. Morris Allen, Neskowin: Metaphorosis Publishing, May 2021. Pp. 91–128.
"The General's Chair." Boned. Web. 9 April 2019. Republished in Boned Every Which Way: A Collection of Skeletal Literature 2019, edited by Nate Ragolia, Denver: Spaceboy Books, 2020. Pp. 77–98.
"Obliviol: A Once-a-Day Pill for Drug-Anxiety Induced Agitation, Anxiety, Apprehension, and Horror." The Metaworker. Web. 31 December 2018.
"The Erasure." Here Comes Everyone, "The Tomorrow Issue," volume 7, issue 1 (2018): 39-41.
Republished in Metastellar: Speculative Fiction and Beyond. Web. 18 June 2021.
"With Them." In My Utopia: A Collection of Creative Writing, edited by Ruzbeh Babei. Cambridge Scholars Publishing, 2018, 11–13, 2018.
"Orientation Packet for Gotham City Taxi Drivers." Co-authored with Katherine Ann Davis. Punchnel's. Web. 9 May 2016.
Back to top of page.