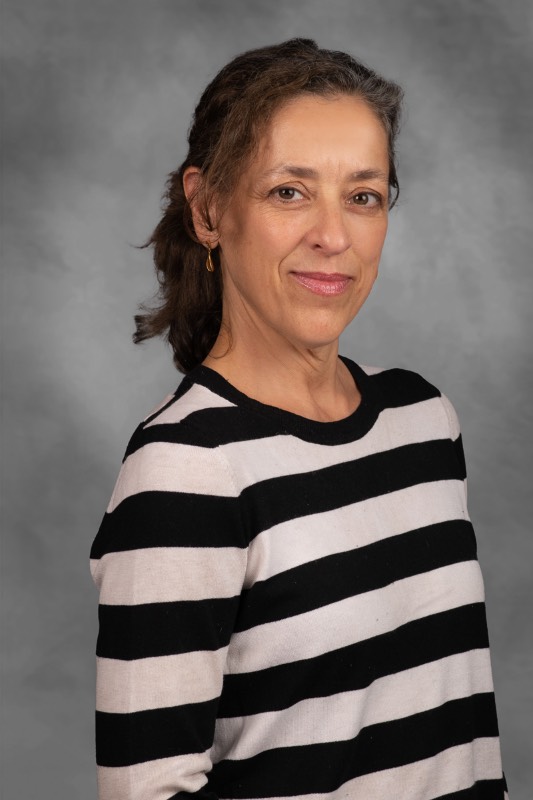 Maria Van Liew
Professor of Spanish
Cultural Studies, Film and Literary Narrative, and Languages
M.A., Ph.D., University of California at San Diego
B.A., Clark University
Dissertation: "Democratic Women: Gender, National Discourse and the Cinema of Post- Franco Spain"
Mitchell Hall 123

610-430-4746

Spring 2021 Virtual Office Hours: 1-2:00pm MWF ­Personal Meeting Room and by appt.
I was fortunate to join the WCU "Foreign Languages" Department in 1998 after teaching literature and film as a graduate student. I was happy to move back east and to participate in the great project of Public Education in what we now call "Languages and Cultures." I participated in renaming and reshaping our current programs to better reflect our understanding of Spanish and International Studies as integral to global participation in the 21st century. My teaching, scholarship, and service to the field of Hispanic Cultural Studies has included a focus on Contemporary Spain, in particular Peninsular literatures and films regarding issues of migration, gender, class, and most recently, Spanish youth culture. I have created, too, opportunities for Study Abroad in Guadalajara, Mexico, and more recently in Barcelona, Spain. I am always delighted to work with students interested in the Humanities and in the world beyond their known political, cultural and virtual borders.
Research Interests
Hispanic Cultural Studies
Spanish Youth Culture
Transnational/Transcultural Migrations
Spanish and Collaborative European Cinema
Spanish Horror Film
European Immigration
Film and Cultural Theory
Classes Regularly Taught
LNC368 Comparative Cultural Studies: Concepts and Methods
SPA301 Advanced Grammar and Composition
SPA302 Advanced Grammar and Speaking
SPA315 Spanish Readings
SPA320 Cultures of Spain
SPA330 Survey of Spanish Literature
SPA407 20th Century Spanish Narrative
SPA415 Spanish Cinema
SPA456/556 [Variety of Spanish Major/Graduate Seminars]
LNC503 Applied Cultural Studies
ESP319 Cultures of Spain (English)
ESP305 Spanish Cinema (English)
ESP335 Islamic Spain (multi-lingual/Traveling Seminar)
"2020 Special Issue. Culture on the Move: Towards a Minorization of Cultural Difference" (guest ed.) Filipovic, Zlatan, A. Gudmundson, Moderna Språk: Journal of Languages, Literatures and Cultures, Special Edition 2020 [9 essays, 175 pages/Culture at Our Borders Conference, Barcelona, July 5-6, 2018] <ojs.ub.gu.se/ojs/index.php/modernasprak/article/view/4956>
Van Liew, M. "Resisting Nationalism in Rompepistas (2009): Punk Attitude in the Working-Class Fiction of Kiko Amat." Moderna Språk, 2020. < ojs.ub.gu.se/ojs/index.php/modernasprak/article/view/4956>
"El cine de horror en la era del Antropoceno: claves para entender el universe fílmico de Jaume Balagueró en cinco ensayos," in Special Section on Spanish Horror Film: 5 invited essays, 81 pages, Introduction written by Van Liew/Cantero, and co-edited with Mónica Cantero-Espojo (Drew U, NJ) for Arizona Journal of Hispanic Cultural Studies, Vol. 22, 2018, 219-300. <muse.jhu.edu/issue/40480>
"Going Viral in the Age of the Synchronous Remake: [REC] (2007) and Quarantine (2008)" [AJHCS see above]
"The Experience of a First-time Online Cultural Studies Instructor: A Case Study" in GSTF Journal on Education (JEd); Vol.4 No.2, 2017. [collaborative work with Esther Smidt, and Languages and Cultures graduate students Michelle McGowan and Timothy Kochem]
"Punk Performance on the Extrarradio: Rompepistas (2009) and the Soundtrack of Emotional Masculinity" in The Dynamics of Masculinity in Contemporary Spanish Culture, edited by Lorraine Ryan & Ana Corbalán. Routledge: London & New York, 2017.
La lengua de la reciprocidad: El caso de la amiga latinoamericana en el cine de inmigración", Fotogramas para la multiculturalidad: Migraciones y alteridad en el cine español contemporáneo. Eds: Maria Van Liew & Mónica Cantero-Espojo. Tirant lo blanch: Valencia, 2012.
"Immigration Films: The Reciprocity of Disruption in Transnational Context," in Contemporary Spanish Cinema and Genre, eds. Jay Beck and Vicente Rodríguez Ortega, Manchester University Press, 2008.
Back to top of page.