Madeleine Marlowe '21
Major: BA: Russian
Minor: Latin
Hometown: Ambler, PA
Why did you choose to attend WCU and/or your area of study at WCU?
I chose to attend WCU because it was one of the few universities in PA which offered a Russian Major, and it was inexpensive and close to home.
What do you plan to do after graduation?
After graduation I plan to look for teaching jobs
What is a typical day like for you?
A typical day for me involves attending my classes, studying and doing homework, and sending lots of emails!
What advice would you give to a prospective WCU student?
I would advise prospective WCU students to not be anxious, but to spend the time to figure out what they enjoy learning about, and what they believe they would find fulfilling to do after they graduate. Also, I would advise them to never be afraid to ask for help and reach out to professors and faculty, because everyone at WCU wants to help you succeed. And don't be afraid to ask your classmates for advice too! I wouldn't have been able to graduate today if it weren't for the advice of kind upperclassmen.
What makes our college stand out to you?
WCU stands out to me because it feels like a community. The school is small enough that I got to know many professors and faculty personally and formed great relationships during my years here, but big enough that I was able to explore many different subjects.
While attending WCU, have you completed an internship and/or study abroad? If so, briefly describe those experiences.
While attending WCU I completed a summer study abroad program in St. Petersburg, Russia. This was an incredible experience for me, and the faculty at WCU made it easy for me to apply to the program and get my credits transferred.
What is your favorite memory so far as a WCU student and/or in our college?
My favorite memory as a WCU student was spending time with other students studying Russian during Russian Tea Time, and practicing and performing the Russian Drama. It was great to meet and develop relationships with other students who were also passionate about learning Russian.
What's the most interesting thing about you that we wouldn't learn from your resume alone?
I love to learn about history, and every summer I volunteer as a reenactor at a regional Folk Festival which aims to teach others about the Pennsylvania Dutch and pass on their history and traditions.
Are you involved in any organizations on and off-campus? If so, please list them and why you decided to become involved with each organization.
I am involved in the WCU Russian Club, as well as the WCU chapter of Alpha Mu Gamma, a National Language Honor Society. I decided to become involved in these organizations because I was passionate about learning languages, and I wanted to meet with other students who felt the same way, and learn with them and from them.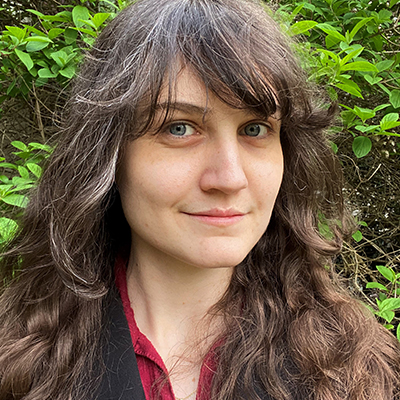 BE IN THE KNOW
Subscribe to receive special event invitations, alumni updates, and news about faculty and students!
Access additional student spotlights from the College of Arts and Humanities.
Back to top of page.