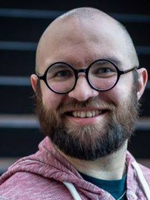 Contact Information
Anderson Hall 227
Education
B.A., University of Minnesota, Duluth
B.A.Sc., University of Minnesota, Duluth
M.A., Virginia Tech
Ph.D., University of Washington, Seattle
Joey Miller
Assistant Professor
Joey Miller, Ph.D. comes to the Department of Philosophy as an Assistant Professor specializing in Native American philosophy and Ethics. After undergraduate studies in philosophy and psychology from the University of Minnesota, Duluth, he received his M.A. in Philosophy from Virginia Tech and his Ph.D. from the University of Washington, Seattle. As an enrolled member of Muscogee Nation, his research focuses on understanding the ethical frameworks of his ancestors and how these frameworks have been adapted to address settler colonialism. Before coming to West Chester University, he had taught philosophy courses at Marian University and Elon University. His work has been published, among other places, in The Journal of Value Inquiry and Philosophical Studies.
Specializations
Native American Philosophy
Ethics
Recent Courses
PHI 101 Introduction to Philosophy
PHI 180 Introduction to Ethics
Selected Publications
"Metaethical Agnosticism: Practical Reasons for Acting When Agnostic About the Existence of Moral Reasons." The Journal of Value Inquiry 54(1), March 2020: 59-75.
"Decolonizing the Demarcation of the Ethical." Philosophical Studies (2019 Pacific APA Special Issue) 177(2), February 2020: 337-352.
"What Do We Need to Know to Live in Harmony with Our Surroundings?" in Ways of Being in the World: An Introduction to Indigenous Philosophy, Andrea Sullivan-Clarke, ed. Peterborough: Broadview Press, forthcoming.
"Etemeyaske Vpokat (Living Together Peacefully): How the Muscogee Concept of Harmony Can Provide a Structure to Morality" in Comparative Metaethics: Neglected Perspectives on the Foundations of Morality, Colin Marshall, ed. New York: Routledge Press, 2019: 81-101.
Back to top of page.