Michael


Thatcher

Area of Study: BA Music: Elective Studies in Theatre
Current City: New York, NY
Graduation Date: 2012
Current Occupation: Actor, The Public Theater (most recent)
Why did you choose WCU and/or the Department of Theatre and Dance?
I came to WCU to get a degree in Music Education. I've always had a deep love for acting and theatre, but I took a practical approach to my future wanting a degree that had job security. In my junior year, however, while observing an elementary school music class, I realized I was making a mistake. I couldn't see myself being a music teacher for next thirty years of my life. And I mean no disrespect to music teachers. My most influential teachers throughout grade/high school were music teachers. I just realized that I was meant to be on stage. While my final degree is in Music, I truly found a home in the Department of Theatre and Dance.
What training or education did the Dept of Theatre and Dance provide for you that relates to your current occupation?
Around the time I realized I didn't want to be a music teacher, Bob Bytnar (former chair of the department of Theatre and Dance) called me into his office. He encouraged me to fully commit to my acting, and suggested I continue my training by getting a Master of Fine Arts degree in Acting. Together, we switched my major from Music Education to Music: Elective Studies in Theatre. The normal "Elective Studies in Theatre" requirements span over all aspects of theatre (acting, stage craft, lighting, etc.). Bob, Leonard Kelly, Liz Staruch, and Emily Rogge allowed me to solely focus on Acting, creating a specialized degree that focused on acting and directing. WCUT prepared me to excel in graduate school, and I now have an MFA in Acting from the University of Houston's Professional Actor Training Program.
What is a typical day like for you?
There is no typical day for me – it's always changing. That's the beauty of a career in the arts. Last week I was in rehearsals for my next show during the day (THE TIME MACHINE with the New York Musical Festival), and performing at night in The Public Theater's production of JULIUS CAESAR. This week my time is split between auditions/submitting for auditions in the morning, rehearsals in the afternoon, and coaching acting students in the evening.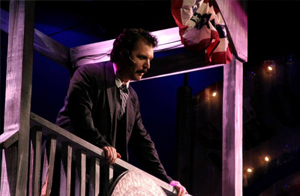 What advice would you give to someone who would like to enter your field?
Never stop expanding your knowledge. Whether it's Broadway or your friend's one-man/woman show, go see as much theatre as possible (and always support your friends that are making art). Take a class. Read a new play every week. After graduating from WCU, apply for internships with professional theatres. MAKE CONNECTIONS. Lastly, NEVER burn a bridge. The longer you stay in theatre, the smaller and smaller the theatre world becomes. Your talent will only get you so far – your reputation will get you farther (who you know, and who knows you).
What is your favorite memory of being a student at WCU and/or in the Department of Theatre and Dance?
It's hard to choose just one! Playing John Wilkes Booth in ASSASSINS is one of my favorite theatrical experiences. Everyone was so dedicated and passionate about that show, and the cast was so talented. Acting with Eric Scotolati in the final scene between Booth and Lee Harvey Oswald is still my favorite 10 minutes on stage.
Back to top of page.