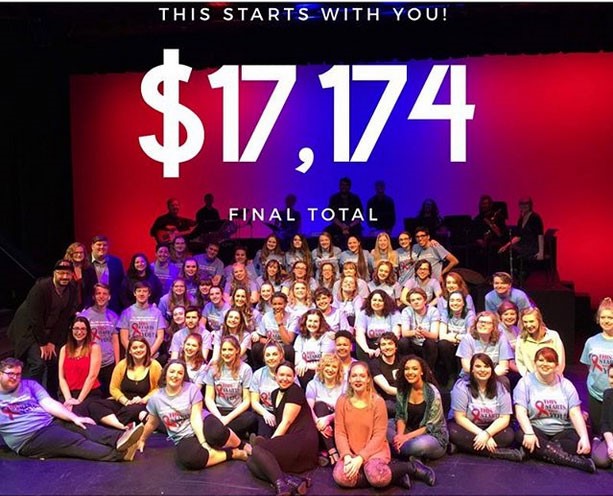 Student-Led University Theatre Group


Raises Over $17,000 to Help Fight AIDS

West Chester, PA – West Chester University theatre students shattered records by raising over $17,000 to support the New York-based Broadway Cares/Equity Fights Aids, a non-profit that provides services to those living with AIDS and HIV. The student-led University Theatre group staged four benefit performances and a silent auction from December 7 – 9, 2018.

2018 marked the 19th year for the student directed and produced benefit, a variety show of sorts that includes "Showtune Showdown," and a performance by each class in the Department of Theatre. Various campus performing groups, including the Swing Dance team and the Improv Group, also participate. In all, approximately 50 students were in the cast, and an additional 15 worked backstage or on staff. The 12-piece band that accompanied students was from West Chester's Wells School of Music.

Caitlin Thompson, a Senior Theatre major, directed the event.

Thompson says, "When they announced the amount of money that we raised this year I was overwhelmed with emotion. It is our highest amount ever raised. Broadway Cares/Equity Fights Aids was initially chosen by the Theatre department many years ago because of its natural tie to the theatre community. Over the years, we have developed a relationship with the organization, and it is so rewarding to know that our hard work is paying off to help them help others.

Last year's benefit raised $14,000.

Tom Viola, the Executive Director of Broadway Cares/Equity Fights Aids, says, "We are so grateful for the passionate and hardworking students at West Chester University, who have raised more than $120,000 for Broadway Cares/Equity Fights Aids over these last 19 years. These tenacious and dedicated students are leading the charge of young people creating advocacy and action through the arts. Their creativity, good will and commitment to social justice is the wind in our sails upon which we all will ride into the future."
Back to top of page.