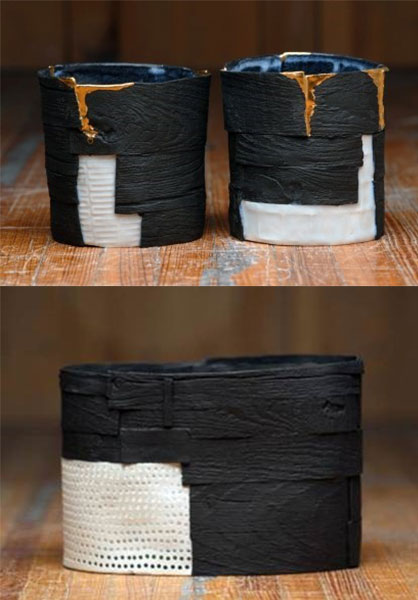 West Chester University Art + Design Alumnus Wins


"Best In Show" in Philadelphia Museum of Art Craft Show

Ceramics artist, Bryan Hopkins, an alumnus of West Chester University's Art + Design Department, was awarded "Best in Show" at the Philadelphia Museum of Art (PMA) Craft Show that ran November 2 – 4, 2018, in Philadelphia.

Hopkins is a part-time Professor of Art and the owner of Hopkins Pottery in Buffalo, New York. At the PMA show, he exhibited a new body of work that combines traditional white porcelain with black porcelain.

Hopkins says, "My work takes my interests in structure, architecture, containment and permanence, and applies them to porcelain vessels. Porcelain is my material of choice because of its translucence and color. I fire the clay at a very high temperature to obtain the whitest result possible."

Calling the PMA show the "best in the country," Hopkins adds, "Winning this award was completely unexpected, and very much appreciated, especially at a show of this caliber. I can't put into words how this makes me feel accepted as an artist."

About West Chester University's Department of Art + Design

West Chester University's Department of Art and Design prepares students for professional careers by emphasizing critical thinking, creative problem solving, visual literacy, and the creative process. Through a nationally-accredited B.F.A. curriculum, students acquire technical and conceptual tools, obtain a solid foundation of visual literacy and appreciation, and are encouraged to develop as socially and globally-engaged artists. Faculty members are active and professionally-recognized artists, designers, and scholars, who are dedicated teachers committed to fostering an environment promoting artistic experimentation, diversity of thought, multiculturalism and global awareness. B.F.A. Degree programs include Graphic and Interactive Design, Studio Arts with three professional concentrations in Painting/Drawing, Sculpture/Craft and General Studio. Minor Degree programs are available in Studio Art and Art History.

About West Chester University

Enrolling more than 17,000 students, West Chester University is the largest member of the 14-institution Pennsylvania State System of Higher Education. Founded in 1871, the University is a comprehensive public institution, offering a diverse range of more than 200 undergraduate, master's, and doctoral programs in more than 50 fields of study. In addition to the main campus in West Chester, the University offers programs through its graduate center, the campus in Philadelphia, and online. Six colleges and two schools comprise the University: University College, Colleges of Arts and Humanities, Business and Public Management, Education and Social Work, Health Sciences, and the Sciences and Mathematics, as well as the Wells School of Music, and the Graduate School.
Back to top of page.