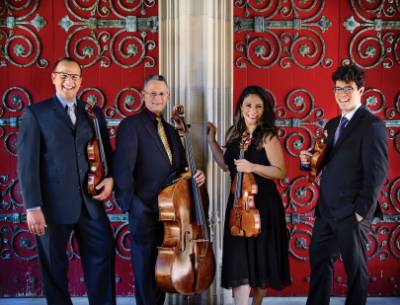 Dalí Quartet Performs at West Chester


with The Philadelphia Orchestra's Ricardo Morales
Concert is Free and Open to the Public on Wednesday, February 6
WEST CHESTER, Pa. ¬¬— West Chester audiences can enjoy world-class music for FREE when the Dalí Quartet, joined by Ricardo Morales from The Philadelphia Orchestra, plays on campus at the Wells School of Music, Wednesday, February 6 at 8:15 p.m. The Quartet performs in the Madeleine Wing Adler Theatre, Swope Music Building and Performing Arts Center, 817 S. High Street, West Chester. The concert is FREE and open to the public.
Named Quartet in Residence at West Chester's Wells School of Music last year, Dalí Quartet performs twice annually on campus, as well as teaches students, and performs with other musical ensembles at the school.
The four members of the Quartet – Domenic Salerni (first violin), Carlos Rubio (second violin), Adriana Linares (viola), Jesus Morales (cello) – will be joined by Ricardo Morales, the principal clarinetist for The Philadelphia Orchestra, and also the brother of Jesus Morales, the Quartet's cellist.
Known world-wide for their "classical roots with Latin soul," the Quartet's passionate energy will be poured into a program rich in Latin influence including String Quartet No. 5 by Brazil's Heitor Villa-Lobos; "Fuga Romantica" by Venezuela's Juan Bautista Plaza, "Metro Chabacano" by Mexico's Javier Alvarez; and "Preludio y Merengue" by Cuba's Paquito D'Rivera. With Ricardo Morales, they will perform Mozart's Quintet in A Major and "Preludio y Merengue."
Domenic Salerni, first violinist says, "We are excited to work with Ricardo again. We do it as his schedule allows and we always have a great time. Mozart's quintet is one of my all-time favorites in this genre."
About West Chester University's Wells School of Music
West Chester University's Wells School of Music offers students an outstanding opportunity in concentrated performance and musicianship through its educational centerpiece — the Applied Music Department. The School's superior performance and practice venues include 22 new Steinways, Skinner organ, tech lab, Roland piano lab, and more. Students study with renowned faculty who have dual careers as dedicated educators and professional musicians. Faculty provide private lessons for all music students and are the directors for numerous student ensembles. The School supports a wide variety of performance degrees, including a Bachelor of Music in Performance, as well as a Master of Music in Performance. Graduates pursue successful careers at major institutions and teach music education at home and abroad.
About West Chester University
Enrolling more than 17,000 students, West Chester University is the largest member of the 14-institution Pennsylvania State System of Higher Education. Founded in 1871, the University is a comprehensive public institution, offering a diverse range of more than 200 undergraduate, master's, and doctoral programs in more than 50 fields of study. In addition to the main campus in West Chester, the University offers programs through its graduate center, the campus in Philadelphia, and online. Six colleges and two schools comprise the University: University College, Colleges of Arts and Humanities, Business and Public Management, Education and Social Work, Health Sciences, and the Sciences and Mathematics, as well as the Wells School of Music, and the Graduate School.
Back to top of page.