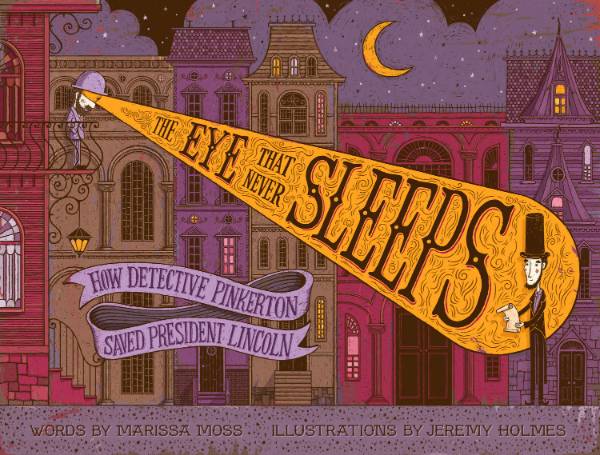 FACULTY FOCUS: Art + Design Professor, Jeremy Holmes, Selected for Prestigious New York Art Show
Jeremy Holmes, Assistant Professor of Art in the Department of Art + Design at West Chester University, has been bestowed a great honor. His work was recently chosen to exhibit at the prestigious The Original Art show in New York City from November 7, 2018 – January 5, 2019. The exhibit is presented by The Society of Illustrators at the Museum of American Illustration in New York City.
The Original Art is an annual exhibit created to showcases illustrations from the year's best children's books published in the United States. Work is chosen by a jury of outstanding illustrators, art directors, and editors. Books are displayed alongside the original paintings, drawings, prints and collages that inspired their art.
Holmes was chosen for his work on The Eye That Never Sleeps, a book by Marissa Moss about Allan Pinkerton, one of America's greatest detectives who helped protect Abraham Lincoln from a first assassination attempt and established the country's most successful detection agency. The Eye That Never Sleeps is illustrated with a contemporary cartoon style, mixing art and text in a way that appeals to readers of all ages.
Holmes says, "It is always a great honor to have your work chosen to hang in the same space as your mentors and idols."
He adds, "The Eye That Never Sleeps was my first delve into non-fiction. As you can imagine, research and historical accuracy is critical for this type of book. I thoroughly enjoyed pouring over page after page of period style typefaces, fashion and architecture."
From Abington, PA, Holmes is the illustrator of several successful children's books including Poem-Mobiles, Secrets of the Dragon Tomb, The Templeton Twins, The Emperor of Mars and On the Day I Died. He has worked for Random House, NPR, The New York Times, Chronicle Books, Penguin and Abrams Books, among others. His work can be found at www.jeremyholmesstudio.com.
Back to top of page.