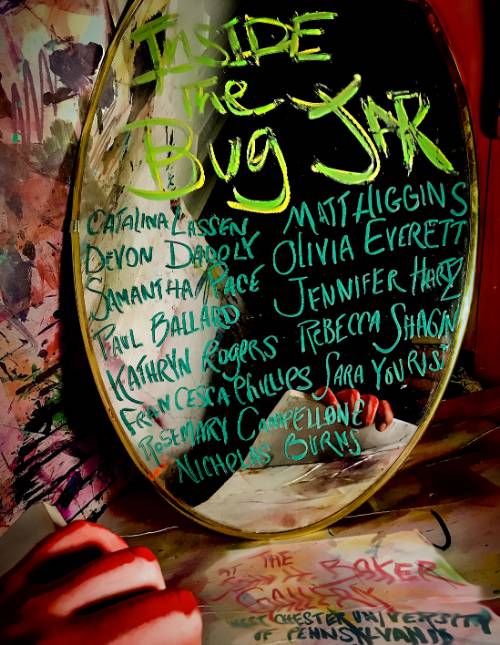 Art + Design Exhibits Alumni Work in


INSIDE THE BUG JAR

West Chester University's Department of Art + Design continues the 2018/19 season with the opening of INSIDE THE BUG JAR in the E.O. Bull Center's Baker Gallery at 2 E. Rosedale Avenue. The work will be on display from January 22, 2019 – February 22, 2019. The event is FREE and open to the public during gallery hours: Monday – Friday 9 a.m. – 4 p.m. and Saturday from 12 noon – 4 p.m. An artist and press reception will be held on Thursday, February 7 from 4 p.m. – 7 p.m.

INSIDE THE BUG JAR is an exhibition that features the work of a diverse collection of West Chester's Studio Art Alumni. Paintings, ceramics, porcelain work, and photography are all on display. It is inspired by the poem of the same title, written by Nicholas Burns '15, a co-curator and participating artist.

Burns says, "My poem examines personal artistic identity. We've all had moments of doubt as artists, but this exhibit brings together the unique work of each of these talented artists and offers a conversation about the many ways artistic identity can be developed. Since leaving West Chester, I feel that all of us participating in this exhibit have finally accepted the individual paths we have created for ourselves as artists."

Kristopher Benedict, Assistant Professor of Art and a faculty advisor, adds, "This exhibition highlights the bold strides each of these artists have taken in their own creative directions. The E.O. Bull Center for the Arts, which was once home to these thirteen artists when they were honing their craft and developing their emerging sensibilities as artists, now represents a place of reunion and celebration of their maturing work and emerging careers since graduating."

Artists include: Paul Ballard '16, Nicholas Burns '15, Rosemary Campellone '15, Devon Dadoly '14, Olivia Everett '15, Jennifer Hartz '14, Matt Higgins '11, Catalina Lassen '15, Samantha Pace '15, Francesca Phillips '14, Kathryn Rogers '15, Rebecca Shagin '14, and Sara Yourist. '14. The poem that inspires the exhibit appears below:

INSIDE THE BUG JAR

By Nicholas Burns '15

In a jar full of bugs,
I am agitated. On display
My actions and motives are questioned by
Leering eyes.
Waiting for the chance to dissect me and use me.
Abuse me and isolate my weaknesses
I must be deft and dexterous
Flexible and malleable
Able to adapt and function in all environments
My design must be flawless and innovative
Cohesive, yet groundbreaking

Eliminate the excess.
Don't be the freak.

Tweak it.
Perfect it.
Make it the best.

Because no one remembers those who live in mediocrity.
The worker bees serve an elegant purpose.
Committed to one another as
A unit.
A family
Aiming to produce the best. The sweetest.

Don't make a mistake because you must remember

Everyone is watching.
Back to top of page.