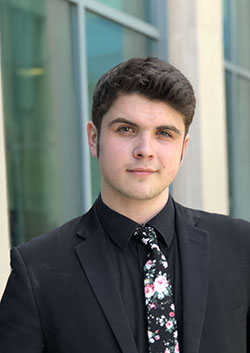 Connor Riley (Vocalist)
SYMPHONY ORCHESTRA:


IRVING H. COHEN MEMORIAL AND CONCERTO WINNERS' CONCERT

WEST CHESTER, Pa. — The West Chester University Symphony Orchestra, one of the esteemed ensembles at West Chester University's Wells School of Music, presents the Annual Irving H. Cohen Memorial & Concerto Winners' Concert on Sunday, February 24, at 3 p.m. The concert is staged in the Madeleine Wing Adler Theatre, Swope Music Building and Performing Arts Center, 817 S. High Street, West Chester. The event is FREE and open to the public. A pre-concert chat about the program and interviews with the Concerto Winners takes place in Ware Recital Hall at 2 p.m. A post-concert reception is in the lobby.

Under the direction of Joseph Caminiti, the concert honors the impact of Irving H. Cohen, WCU Professor of Music from 1969 until his death in 1989. A memorial fund in Cohen's name benefits current West Chester music students through scholarships and other means of support.

This year marks the first year that the Cohen memorial concert is combined with the Concerto Winners' presentations. Two Wells School of Music students were chosen through a selection committee that included Amy Oshiro-Morales, violinist with The Philadelphia Orchestra, and pianist Hugh Sung from the Curtis Institute of Music.

Caminiti says, "This annual concert, which celebrates Dr. Cohen's many contributions to West Chester's School of Music, is a wonderful tribute made even better by combining it with our Concerto Winners concert. There is connective tissue between Dr. Cohen's legacy and music's future. Our concerto winners will demonstrate that the future is bright, and I know Dr. Cohen would be supremely proud."

The program includes Fanny Mendelsson's Overture in C, Haydn's Symphony No. 104 and Ravel's Boléro. Concerto winner and cellist Hyewon Jo, from South Korea, will perform the first movement of Shostakovich's Cello Concerto No. 1, and winner and vocalist Connor Riley will perform "Vainement, ma bien-aimee" from Le Roi d'Ys by Edouard Lalo.

About West Chester University's Wells School of Music

West Chester University's Wells School of Music offers students an outstanding opportunity in concentrated performance and musicianship through its educational centerpiece — the Applied Music Department. The School's superior performance and practice venues include 22 new Steinways, Skinner organ, tech lab, Roland piano lab, and more. Students study with renowned faculty who have dual careers as dedicated educators and professional musicians. Faculty provide private lessons for all music students and are the directors for numerous student ensembles. The School supports a wide variety of performance degrees, including a Bachelor of Music in Performance, as well as a Master of Music in Performance. Graduates pursue successful careers at major institutions and teach music education at home and abroad.

About West Chester University

Enrolling more than 17,000 students, West Chester University is the largest member of the 14-institution Pennsylvania State System of Higher Education. Founded in 1871, the University is a comprehensive public institution, offering a diverse range of more than 200 undergraduate, master's, and doctoral programs in more than 50 fields of study. In addition to the main campus in West Chester, the University offers programs through its graduate center, the campus in Philadelphia, and online. Six colleges and two schools comprise the University: University College, Colleges of Arts and Humanities, Business and Public Management, Education and Social Work, Health Sciences, and the Sciences and Mathematics, as well as the Wells School of Music, and the Graduate School.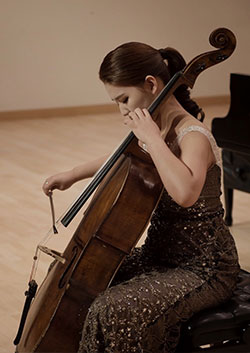 Hyewon Jo (Cellist)
Back to top of page.