PROGRAMS AND PERFORMANCES ANNOUNCED FOR 29th ANNUAL
JAZZ FESTIVAL AT WEST CHESTER UNIVERSITY
WEST CHESTER, Pa. ­­— The West Chester University Wells School of Music announces programming and performances for the 29th Annual Jazz Festival, running March 20 – 23. All events are staged in the Madeleine Wing Adler Theatre, Swope Music Building and Performing Arts Center, 817 S. High Street, West Chester. Events Wednesday through Friday are FREE and open to the public, and FREE parking is offered outside of the Swope Music Building.

For full listings and details visit https://www.wcupa.edu/music/jazzfest.aspx.

Marc Jacoby is the Director of Jazz Studies at West Chester University and the curator for the 2019 Jazz Festival.

Jacoby says, "West Chester University has enjoyed a long history and commitment to great jazz programming. Our own faculty jazz group, as well as our beloved student jazz ensemble, the Criterions, are among our many points of pride for the Wells School of Music. As well, our annual Jazz Festival, now in its 29th year, invites members of the community onto our campus to enjoy some of the finest jazz artists from our region and beyond, programmed in our top-notch facilities, for FREE. We want the community to take full advantage of these offerings, and to share in our excitement for this fantastic programming."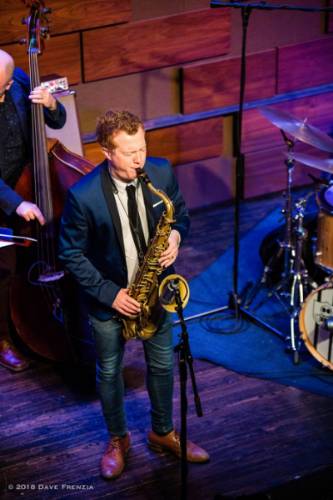 Events include:

Wednesday, March 20

12 p.m. – Minas featuring Orlando Haddad and Patricia King
Minas is the Grammy Award-winning Brazilian Jazz Band (Bossa Nova Day, 2009) featuring guitarist and vocalist, Orlando Haddad, and pianist and vocalist, Patricia King. They have performed at Lincoln Center, Kennedy Center and both the Kimmel Center and the Mann Music Center in Philadelphia. Drawing from Brazilian traditions of samba, bossa nova, baião, axé, as well as American jazz, blues, and folk, Minas performs originals as well as Brazilian classics.
8 p.m. – WCU Faculty Jazz Group: Featuring Dan Cherry (trombone), David Cullen (guitar), Christopher Hanning (drumset), Marc Jacoby (vibraphone), Terry Klinefelter (piano), Peter Paulsen (bass), Jonathan Ragonese (Saxophone), John Swana (Valve Trombone/EWI), Paul Jost (vocalist).


Thursday, March 21

12 p.m. – Tony Micelli (vibraphone) and Diane Monroe (violin)
Internationally renowned vibraphonist Tony Miceli has been performing steadily on the jazz scene since 1980. Diane Monroe is an improvising violinist who was described as displaying "stunning musicianship" by Jazz Times. Together the two make magic. In 2014 they released their album, Alone Together. "Monroe and Miceli are adept and resilient musicians of the highest caliber, so they are able to weave their combined sounds into many expressive variations that create 'tone poems' and tell stories." –All About Jazz

8 p.m. - Adam Larson Quartet –
Tenor saxophonist, Adam Larson, has been described by The New York Times as "the sort of jazz musician who gets flagged early on as a promising talent and then hustles to meet every requirement for success." Larson has garnered numerous awards that, at 28, distinguish him as one of the most promising artists of his generation. He has released four albums, and his most recent, "Second City," received a four-star rating from Downbeat Magazine, and was listed as one of the best releases of 2017 in both Downbeat and Jazziz Magazine.

Friday, March 22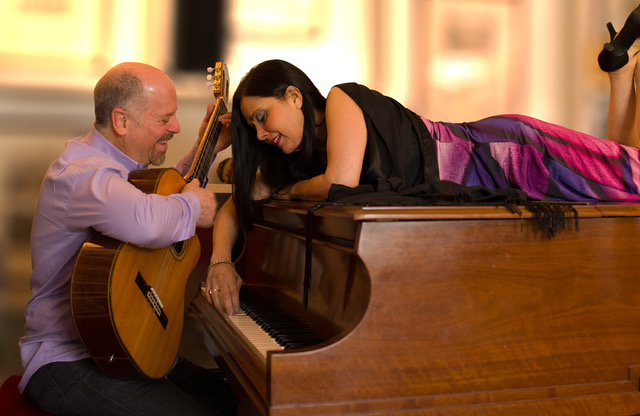 12 p.m. – Master Class with Xiomara Laugart and Axel Tosca Laugart

7:30 p.m. – Xiomara Laugart and Axel Tosca Laugart (with the WCU Criterions, a string sextet, and arrangements by WCU's own Jonathan Ragonese)
Born in Guantanamo, Xiomara Laugart is known as the "voice of Cuba." Now based in New York and known for her nuevo trova music, Laugart has recorded more than 17 albums. Axel Tosca Laugart, son of Xiomara and singer/songwriter, Albert Tosca, is one of the most dynamic young pianists on the scene today. Together with WCU's Criterions jazz ensemble, a string sextet, and with arrangements by WCU's Jonathan Ragonese, this group promises to bring audiences to their feet.

Saturday, March 23 (Tickets Required)

10 a.m. – 6 p.m. – High School Jazz Ensemble Showcase
14 of the finest jazz ensembles from High Schools around the region will perform in half-hour sets, receiving feedback and working with WCU faculty. Tickets are $12/Adults, $7/Students and Seniors with valid i.d. Tickets can be purchased at www.wcupatix.com.


About West Chester University's Wells School of Music
West Chester University's Wells School of Music offers students an outstanding opportunity in concentrated performance and musicianship through its educational centerpiece — the Applied Music Department. The School's superior performance and practice venues include 22 new Steinways, Skinner organ, tech lab, Roland piano lab, and more. Students study with renowned faculty who have dual careers as dedicated educators and professional musicians. Faculty provide private lessons for all music students and are the directors for numerous student ensembles. The School supports a wide variety of performance degrees, including a Bachelor of Music in Performance, as well as a Master of Music in Performance. Graduates pursue successful careers at major institutions and teach music education at home and abroad.

About West Chester University
Enrolling more than 17,000 students, West Chester University is the largest member of the 14-institution Pennsylvania State System of Higher Education. Founded in 1871, the University is a comprehensive public institution, offering a diverse range of more than 200 undergraduate, master's, and doctoral programs in more than 50 fields of study. In addition to the main campus in West Chester, the University offers programs through its graduate center, the campus in Philadelphia, and online. Six colleges and two schools comprise the University: University College, Colleges of Arts and Humanities, Business and Public Management, Education and Social Work, Health Sciences, and the Sciences and Mathematics, as well as the Wells School of Music, and the Graduate School.
Back to top of page.