Theatre and Dance Presents
LOCAL GIRLS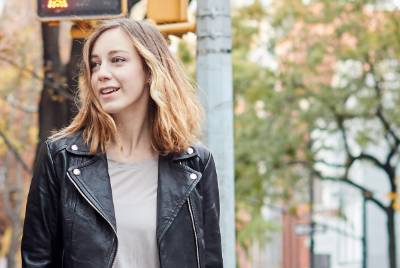 By: Emma Goidel
Directed by: Leonard Kelly
MainStage Theatre, E.O. Bull Center for the Arts
March 1-7, 2019
West Chester's Department of Theatre and Dance will present LOCAL GIRLS by Emma Goidel, from March 1 - 7, 2019. Performances are staged in the MainStage Theatre at the E.O. Bull Center for the Arts, 2 E. Rosedale Ave., West Chester. Tickets are $13 - $16 and can be purchased at www.wcupatix.com. Performances are March 1, 2, 6 and 7 at 7:30 p.m., and March 2 and 3 at 2 p.m.
LOCAL GIRLS is a play with music about searching for big-time glory in a small-time town. In the play, Diskit is a high school chemistry genius who needs some friends, while Riley is a high school burnout who needs a new screamer for her heavy metal band. A local "Battle of the Bands" contest could transform them both from high school losers to rock gods, but will that be enough to get both girls out of Tucker, Georgia?
Now based in Brooklyn, Goidel first premiered LOCAL GIRLS at Philadelphia's Azuka Theatre in 2017. Goidel spent five years in Philadelphia writing and producing new theatre, and co-founded the critically acclaimed producing playwrights collective, Orbiter 3. Orbiter 3 became the youngest company ever to win Barrymore Awards for Excellence in Theatre after receiving twelve nominations, seven for its 2015 production of Goidel's A Knee That Can Bend.
Leonard Kelly, Associate Professor of Theatre/Performance, is the director of LOCAL GIRLS. He says, "It is an honor to produce Emma Goidel's LOCAL GIRLS. Goidel has made great contributions to new works of theatre in her young career. The Department of Theatre and Dance at West Chester makes a commitment to produce at least one show each year that is written by a female playwright. LOCAL GIRLS was the perfect selection. Not only because it is a blisteringly funny and a provocative new play that is perfect for college-aged students, but also, because it supports the new work of an up-and-coming female playwright who happens to also have local ties."
aylor Matter is the Senior Theatre Major from Glenmore in the role of Diskit. She says, "The script is incredibly witty and very heartfelt. Goidel makes her characters feel very real, while still being hilarious. We all had a hard time reading through it without laughing when we first began rehearsing, but there's some very tender moments as well."
Other members of the cast include Austin Carlson (Francis), Alex Harding (Roe), Annika Jorgensen (Shanice), Coral Reef Sebadra (Riley).
About West Chester University's Department of Theatre & Dance
The Department of Theatre and Dance at West Chester University, an accredited institution of the National Association of Schools of Theatre, prepares students for the professional and the academic worlds of Theatre and Dance, while raising student awareness of civility, diversity, creativity, problem solving and social responsibility. The department offers a BA Theatre degree program with elective concentrations in Musical Theatre, Performance, and Design and Production, in addition to a dance minor and theatre minor.
About West Chester University
Enrolling more than 17,000 students, West Chester University is the largest member of the 14-institution Pennsylvania State System of Higher Education. Founded in 1871, the University is a comprehensive public institution, offering a diverse range of more than 200 undergraduate, master's, and doctoral programs in more than 50 fields of study. In addition to the main campus in West Chester, the University offers programs through its graduate center, the campus in Philadelphia, and online. Six colleges and two schools comprise the University: University College, Colleges of Arts and Humanities, Business and Public Management, Education and Social Work, Health Sciences, and the Sciences and Mathematics, as well as the Wells School of Music, and the Graduate School.
Back to top of page.