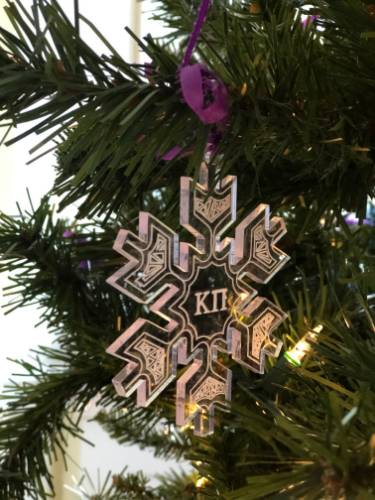 Art & Design Students


Trim the President's Christmas Tree

West Chester University Art + Design students are spreading cheer on campus this holiday season. Their gorgeous and uniquely crafted ornaments now adorn the tree erected at Tanglewood, the home of President Chris and Dr. Sue Fiorentino.

The ornaments were crafted during the Thanksgiving holiday, and students decorated the tree on Saturday, December 1st.

A template was used for the laser cut baubles, each etched out of purple-edged acrylic, and students added their own unique snowflake designs.

The result? A gorgeous and sparkling design with a modern twist that will bring merriment and joy to all who visit Tanglewood this holiday season.

Sue Fiorentino joined the students to decorate the tree. She says, "We enjoyed a lovely morning together drinking hot chocolate and decorating the tree. Our Art + Design students at West Chester University are so talented, and I am thrilled that we can display their work at Tanglewood."

The student ornament makers are all members of Kappa Pi, an honors group that is open to any student in the Art + Design department. Post-holiday, they'll retrieve the ornaments to sell as a fundraiser for the WCU Resource Pantry.
Back to top of page.