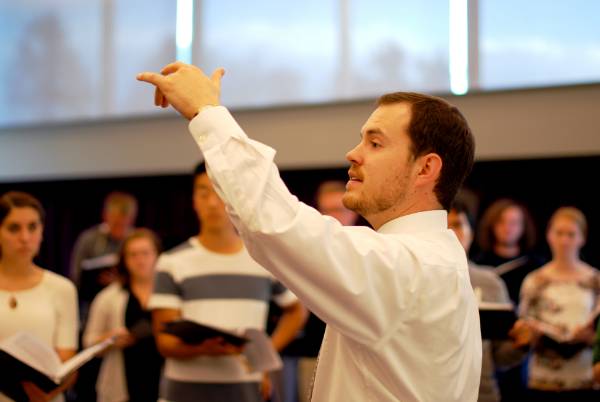 WCU Wells School of Music Professor


Leads High School Choral Festival
Culminating Concert Features 162 Honors Choral Students from Chester, Delaware and Philadelphia Counties
WEST CHESTER, Pa. ¬¬— Ryan Kelly, Associate Professor and Associate Director of Choral Music at West Chester University, will lead 162 of the area's top choral students, joined together for a special concert, on Saturday, February 9th.
The annual Pennsylvania Music Educators Association (PMEA) District 12 Choral Festival runs February 7 – 9, with a culminating concert on the 9th at 11 a.m., in the Emilie K. Asplundh Concert Hall, Philips Memorial Building, 700 S. High Street, West Chester. Tickets are $5 and available at the door.
Concertgoers will hear student singers from Chester, Delaware and Philadelphia counties, who were chosen through an audition process, sing choral selections from Bach, Haydn, Vaughan Williams and others. They will also perform "The Music Before Me," a piece that Kelly himself composed.
Kelly, who resides in Broomall, says, "It is an honor for me to direct this year's PMEA District 12 Choral Festival, and to work with these students who are dedicated and enthusiastic about choral music. This festival is a great opportunity for the area's top students to work together and learn from one another. I am excited to have them with me here at West Chester, and to offer them this special musical appearance."
PMEA Host Director Jonathan Kreamer says, "Ryan Kelly is an amazing leader in his field - an esteemed choral conductor, a published arranger and composer, and an amazing teacher. I am thrilled that our students will have the opportunity to learn from him."
About West Chester University's Wells School of Music
West Chester University's Wells School of Music offers students an outstanding opportunity in concentrated performance and musicianship through its educational centerpiece — the Applied Music Department. The School's superior performance and practice venues include 22 new Steinways, Skinner organ, tech lab, Roland piano lab, and more. Students study with renowned faculty who have dual careers as dedicated educators and professional musicians. Faculty provide private lessons for all music students and are the directors for numerous student ensembles. The School supports a wide variety of performance degrees, including a Bachelor of Music in Performance, as well as a Master of Music in Performance. Graduates pursue successful careers at major institutions and teach music education at home and abroad.
About West Chester University
Enrolling more than 17,000 students, West Chester University is the largest member of the 14-institution Pennsylvania State System of Higher Education. Founded in 1871, the University is a comprehensive public institution, offering a diverse range of more than 200 undergraduate, master's, and doctoral programs in more than 50 fields of study. In addition to the main campus in West Chester, the University offers programs through its graduate center, the campus in Philadelphia, and online. Six colleges and two schools comprise the University: University College, Colleges of Arts and Humanities, Business and Public Management, Education and Social Work, Health Sciences, and the Sciences and Mathematics, as well as the Wells School of Music, and the Graduate School.
Back to top of page.