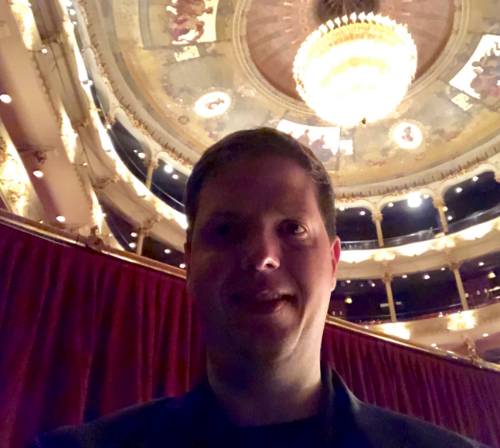 West Chester University


Professor Provides the Beat for The Nutcracker's Dancing Feet

WEST CHESTER, Pa. ­­- A Wells School of Music faculty member at West Chester University will surely be seeing visions of sugarplums this holiday season.

Ralph Sorrentino, Assistant Chair of Applied Music, is gearing up to play 25 performances of The Nutcracker for the Pennsylvania Ballet, which opened Friday, December 7, at the majestic Academy of Music. As Section Percussionist for the PA Ballet Orchestra, Sorrentino has played for PA Ballet's The Nutcracker since 2008, totaling more than 225 performances to date.

The Ridley Township native who now resides in Newark, Delaware, joined the percussion faculty at West Chester University in 2004. He teaches Applied Percussion, is the Assistant Chair of the Department, and directs the Percussion Ensemble. He also serves as Principal Percussionist with Opera Philadelphia and is a substitute percussionist for The Philadelphia Orchestra and the Chicago Symphony Orchestra, among others. His debut solo percussion album, multiplicity, was released in October of 2014.

After 225 performances, what are Sorrentino's thoughts on the show?

Sorrentino says, "Even after 225 performances, I am always amazed by Tchaikovsky's unique and colorful percussion scoring. The Nutcracker includes exciting moments for timpani, tambourine, snare drum, glockenspiel, and several other percussion instruments."

He adds, "One of my favorite aspects of performing the Nutcracker is seeing families bring their children to the rail at the edge of the orchestra pit prior to a performance, in order to point out the instruments of the orchestra. The PA Ballet's production serves as a beloved family tradition for many families in the Greater Philadelphia region, and I'm honored to be associated with the ballet company."

Sorrentino joins several of his Wells School of Music colleagues, also on area stages this holiday season. Fellow percussionist and faculty member, David Nelson, will join Sorrentino for The Nutcracker, and will also perform in the Philly Pops Christmas show. Classical guitarist and Grammy Award-winner, David Cullen, also performs with the Philly Pops. Assistant Professor of Tuba and Euphonium, Jonathan Fowler, recently played the Celtic Woman: The Best of Christmas tour.

About West Chester University's Wells School of Music

West Chester University's Wells School of Music offers students an outstanding opportunity in concentrated performance and musicianship through its educational centerpiece — the Applied Music Department. The School's superior performance and practice venues include 22 new Steinways, Skinner organ, tech lab, Roland piano lab, and more. Students study with renowned faculty who have dual careers as dedicated educators and professional musicians. Faculty provide private lessons for all music students and are the directors for numerous student ensembles. The School supports a wide variety of performance degrees, including a Bachelor of Music in Performance, as well as a Master of Music in Performance. Graduates pursue successful careers at major institutions and teach music education at home and abroad.

About West Chester University

Enrolling more than 17,000 students, West Chester University is the largest member of the 14-institution Pennsylvania State System of Higher Education. Founded in 1871, the University is a comprehensive public institution, offering a diverse range of more than 200 undergraduate, master's, and doctoral programs in more than 50 fields of study. In addition to the main campus in West Chester, the University offers programs through its graduate center, the campus in Philadelphia, and online. Six colleges and two schools comprise the University: University College, Colleges of Arts and Humanities, Business and Public Management, Education and Social Work, Health Sciences, and the Sciences and Mathematics, as well as the Wells School of Music, and the Graduate School.
Back to top of page.