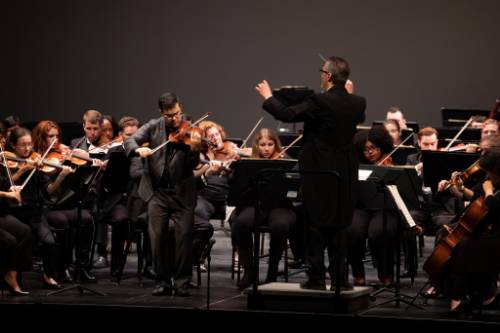 WCU'S SYMPHONY ORCHESTRA PRESENTS


BENEFIT CONCERT FOR THE WCU RESOURCE PANTRY
WEST CHESTER, Pa. ­­— One of the esteemed ensembles at West Chester University's Wells School of Music will present a benefit concert on Thursday, November 29, at 8:15 p.m., in the Madeleine Wing Adler Theatre in the Swope Music Building and Performing Arts Center, 817 S. High Street, West Chester.
The West Chester University Symphony Orchestra, under the direction of Joseph Caminiti, will donate all concert proceeds to the West Chester University Resource Pantry. The concert is free and open to the public, but cash and check donations will be accepted, and ambassadors from the WCU Resource Pantry will be onsite to answer questions and collect donations.
A pre-concert reception, including a mini concert, starts at 7:30 p.m. in the lobby.
The WCU Resource Pantry helps students with financial need by providing non-perishable food, fresh produce, personal care items, school supplies and winter and career clothing.
Wells School of Music Director of Orchestral Studies, Joseph Caminiti says, "We wanted to do something that helps others during this season of giving and receiving. The WCU Resource Pantry does so much for those right here on our own campus. We, and all the students performing in this concert, are pleased to support them."
Faculty cellist, Ovidiu Marinescu, is a featured soloist, and on the program is Butterworth, A Shropshire Lad Rhapsody; Elgar, Cello Concerto in E Minor; and Shostakovich, Symphony No. 1 in F Minor.
Back to top of page.