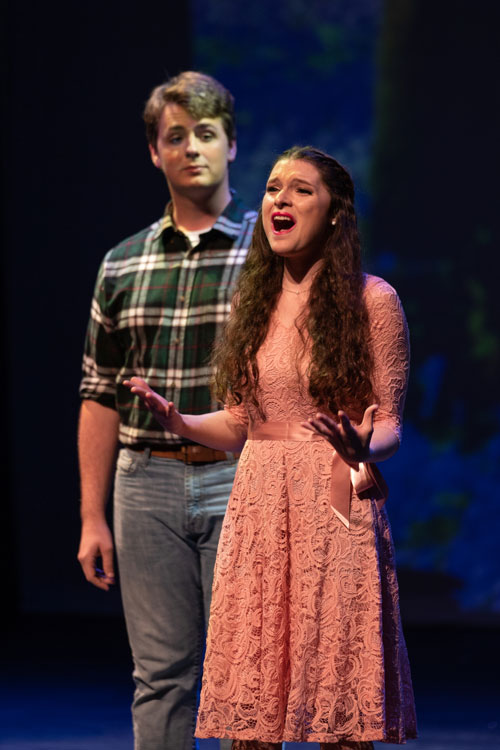 West Chester University Wells School of Music Presents


Aaron Copland's THE TENDER LAND

Friday, March 29 and Saturday, March 30 at 7:30 p.m.

WEST CHESTER, Pa. ¬¬— Local audiences can enjoy a rare operatic treat when West Chester's Wells School of Music presents Aaron Copland's THE TENDER LAND. Show dates are Friday, March 29 and Saturday, March 30 at 7:30 p.m. in the Madeleine Wing Adler Theatre, Swope Music Building and Performing Arts Center, 817 S. High Street, West Chester. Tickets are $12 for Adults and $7 for Students/Seniors and can be purchased at www.wcupatix.com.

THE TENDER LAND by American master, Aaron Copland, is a classic coming-of-age tale about a young girl who falls in love for the first time on the eve of her high school graduation. The opera premiered in 1954, and takes place in the 1930s. Walker Evan's depression-era photos that depicted American farm life were Copland's inspiration for the opera.

Emily Bullock, Chair of Applied Music at West Chester's Wells School of Music, and the Producer of THE TENDER LAND says, "We are thrilled to present this production of THE TENDER LAND. It is a perfect show for college-aged students and for us here at West Chester. Copland's gorgeous score and the orchestrations are unmatched. It is also very accessible – written in English, with a universal story line."

THE TENDER LAND will be produced as a semi-staged reading with minimal sets, full costumes, and accompanied by the WCU Chamber Orchestra, conducted by its Music Director, Joseph Caminiti.

Caminiti says, "The score is clearly Copland's with the characteristic sounds of 'Americana'. Anyone familiar with his work will recognize THE TENDER LAND as his. It is the sound of wide open spaces."

Strummer Steele, a Junior Vocal Performance major, tackles the role of Laurie.

Steele, a soprano says, "Copland's music is some of the hardest I've ever had to learn, but it is also gorgeous, and has a very distinct sound that reminds you of American folk songs. Copland has a very modern style of composing. He writes in a very conversational way."

She adds, "I think this really is an Opera for everyone. The English helps, and the characters and story are completely relatable."

One of the more recognizable songs in the opera is "The Promise of Living," which is often excerpted and sung by choruses.

About West Chester University's Wells School of Music

West Chester University's Wells School of Music offers students an outstanding opportunity in concentrated performance and musicianship through its educational centerpiece — the Applied Music Department. The School's superior performance and practice venues include 22 new Steinways, Skinner organ, tech lab, Roland piano lab, and more. Students study with renowned faculty who have dual careers as dedicated educators and professional musicians. Faculty provide private lessons for all music students and are the directors for numerous student ensembles. The School supports a wide variety of performance degrees, including a Bachelor of Music in Performance, as well as a Master of Music in Performance. Graduates pursue successful careers at major institutions and teach music education at home and abroad.

About West Chester University

Enrolling more than 17,000 students, West Chester University is the largest member of the 14-institution Pennsylvania State System of Higher Education. Founded in 1871, the University is a comprehensive public institution, offering a diverse range of more than 200 undergraduate, master's, and doctoral programs in more than 50 fields of study. In addition to the main campus in West Chester, the University offers programs through its graduate center, the campus in Philadelphia, and online. Six colleges and two schools comprise the University: University College, Colleges of Arts and Humanities, Business and Public Management, Education and Social Work, Health Sciences, and the Sciences and Mathematics, as well as the Wells School of Music, and the Graduate School.
Back to top of page.