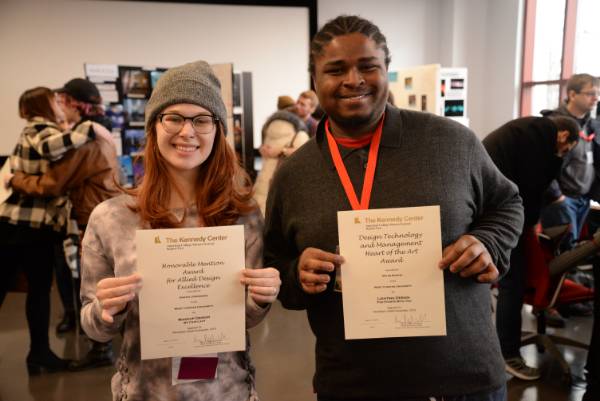 Department of Theatre and Dance


Shines at Regional Festival

The Department of Theatre and Dance at West Chester University was well represented at the Region II Kennedy Center American College Theatre Festival (KCACTF), held at Montclair State University from January 15 – 19, 2019.

Now in its 51st year, the festival attracts theatre students and faculty from colleges and universities in Mid-Atlantic states for four days of theatre training and competition. Attending students go to workshops, panel discussions, enter competitions, and perform in readings or fully staged productions. In all, about 50 colleges and universities are represented at the festival.

During the festival, six shows, produced at participating schools over the course of the year, are chosen by a committee to receive fully staged presentations at the festival. This year, West Chester's production of ANTIGONE was one of the six productions, and its production of NEVER HAVE I EVER received a staged reading.

Martin Dallago is an Assistant Professor and Production Manager in the Department of Theatre and Dance at West Chester. He says, "We are very proud of how our students perform at this festival, and of the many times a West Chester show has been chosen to receive a fully staged production. It's a testament to the strength of our department and the strong commitment of our faculty and students."

Of the 51 West Chester students attending the festival, five were recognized with awards and honors:
Annika Jorgenson received an Honorable Mention Award for Excellence in Hair and Makeup Design for WCU's production of MY FAIR LADY.
Myles Martin received the Heart of the Art Award, a new award that is given to a student who shows passion and potential in their field. Martin in a student lighting designer.
Chris Mancaruso was selected to perform in the Musical Theatre Intensive cabaret.
Emma Johnson was selected to perform in the Musical Theatre Intensive finale.
Lexi Hunter was a member of the discussion panel, "Transgender/Gender Fluid Individuals in the Arts."
Back to top of page.