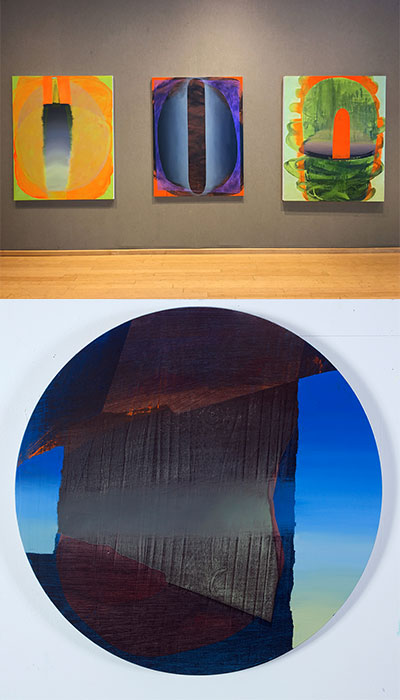 West Chester University Department of Art + Design Exhibits


Theta Resonance: New Works by Kate Stewart

West Chester University's Department of Art + Design continues the 2018/19 season with the opening of Theta Resonance: New Works by Kate Stewart in the Swope Music Building and Performing Arts Center, 817 S. High Street, West Chester. The work will be on display until April 5, 2019. The event is FREE and open to the public during gallery hours: Monday – Friday 10 a.m. – 4 p.m.

The title Theta Resonance refers to the theta state of the brain during meditation, REM sleep and hypnosis.

Stewart says, "Characteristic of the theta state, brain wave frequencies slow down and the subject is often able to occupy a space between the conscious and the subconscious. This is the place I try to describe in my paintings."

ABOUT THE ARTIST

Kate Stewart has had solo exhibitions at Vox Populi Gallery, Seraphin Gallery, Moore College of Art, West Chester University, Drexel University, Gettysburg College and The Art Institute of Philadelphia. She has also been included in group exhibitions at TATE Modern in London, P.S. 122 in New York, Plug Projects in Kansas City, Arlington Arts Center in Virginia, Towson University Center for the Arts Gallery, Pageant Soloveev Gallery, and the Institute of Contemporary Art in Philadelphia. Mural commissions include Arlington Courthouse Plaza 2.0 (Arlington, VA), Dickinson College Goodyear Gallery (Carlisle, PA) and Dickinson College Farm (Boiling Springs, PA). Stewart's work has been featured in New American Paintings, Studio Visit Magazine, Dickinson College Magazine and Glasschord Magazine. She was a 2005 Fleisher Challenge Artist in Philadelphia and a finalist for the PEW grant for artists in 2008. Stewart has been awarded a Faculty research grant through in 2013 and a Research and Creative Activities grant in 2018, both from West Chester University. She has enjoyed creative residencies at Vermont Studio Center ('02, '18), 40th Street Artist-In-Residence in Philadelphia and will be an artist in residence at the Sam and Adele Golden Foundation in the summer of 2019.

Kate received her MFA from The University of Pennsylvania in 2003 and a BA from Dickinson College in 1998. She is currently Assistant Professor in the Art Department at West Chester University.

About West Chester University's Department of Art + Design

West Chester University's Department of Art and Design prepares students for professional careers by emphasizing critical thinking, creative problem solving, visual literacy, and the creative process. Through a nationally-accredited B.F.A. curriculum, students acquire technical and conceptual tools, obtain a solid foundation of visual literacy and appreciation, and are encouraged to develop as socially and globally-engaged artists. Faculty members are active and professionally-recognized artists, designers, and scholars, who are dedicated teachers committed to fostering an environment promoting artistic experimentation, diversity of thought, multiculturalism and global awareness. B.F.A. Degree programs include Graphic and Interactive Design, Studio Arts with three professional concentrations in Painting/Drawing, Sculpture/Craft and General Studio. Minor Degree programs are available in Studio Art and Art History.

About West Chester University

Enrolling more than 17,000 students, West Chester University is the largest member of the 14-institution Pennsylvania State System of Higher Education. Founded in 1871, the University is a comprehensive public institution, offering a diverse range of more than 200 undergraduate, master's, and doctoral programs in more than 50 fields of study. In addition to the main campus in West Chester, the University offers programs through its graduate center, the campus in Philadelphia, and online. Six colleges and two schools comprise the University: University College, Colleges of Arts and Humanities, Business and Public Management, Education and Social Work, Health Sciences, and the Sciences and Mathematics, as well as the Wells School of Music, and the Graduate School.
Back to top of page.