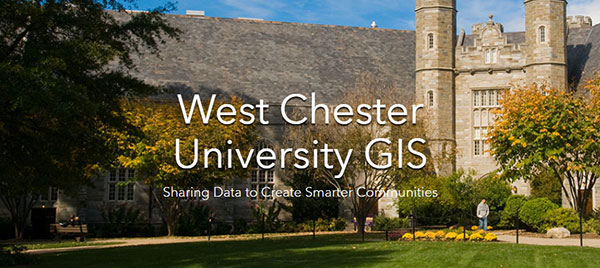 Welcome to West Chester University's Open GIS Data provided by the Department of Geography and Planning. If you are looking for geospatial data on the University, our work with surrounding municipalities, or Chester County as a whole, you've come to the right place. This Open Data site is dedicated to providing users with GIS data to energize research, planning, and future development in our communities.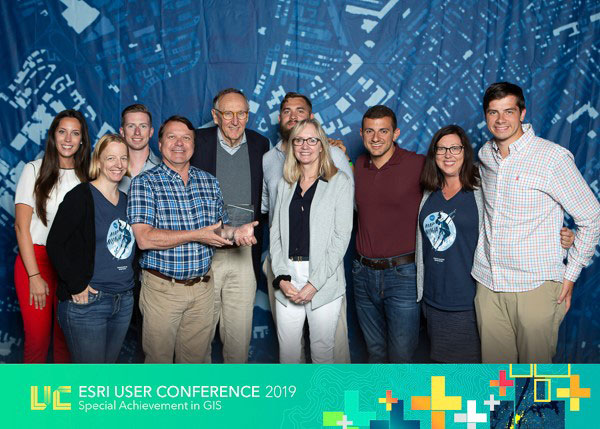 West Chester University's Geography & Planning Department was named the winner of The 2019 Special Achievement in GIS award at the ESRI User Conference this past July in San Diego. We were one of 90 organizations recognized (1/20th of 1% of ESRI users) who received this award and was presented by ESRI's founder/owner Jack Dangerman.
WEST CHESTER GEOGRAPHY AND PLANNING FEATURED IN ESRI USER STORY
West Chester University's Department of Geography and Planning is proud to be featured by Esri in one of its user stories. Read about how the department incorporates Esri's software platforms into its courses, and especially how it was able to teach GIS during the pandemic.
TWO NEW MINORS APPROVED!
The department now offers an Applied Community and Envrionmental Sustainability (ACES) Minor. and a Geographic Information Systems (GIS) Minor.
WELCOME TO GEOGRAPHY AND PLANNING AT WEST CHESTER UNIVERSITY!
For over 50 years, we have been training students in the disciplines of geography and planning and preparing emerging professionals for success in these fields. Our programs are unique due to the full integration of geospatial technologiues and sustainability throughout the curricula. Career opportunities in geography and planning are strong. There is a high demand for graduates trained in the use of geospatial technologies and location analytic abilities. The U.S. Department of Labor recently identified the geospatial technology sector as one of the three technology areas that would create the greatest number of new jobs over the next decade.
There is also strong demand for planners at the local and regional levels. A focus on sustainability ensures that students are prepared to address some of our greatest contemporary challenges such as uncovering local and regional solutions and adaptations to the global climate change. Consdering the multiple aspects of sustainability, program graduates learn how to integrate economic development, environmental protection, social priorities, and place-based problem solving.
Graduates of all programs will be prepared to work in the public and not-for-profit sectors. Recent graduates from our programs have entered employment positions across the country, including California, Colorado, and Maryland, as well as across Pennsylvania, New Jersey and Delaware. Whether as planners, environmental specialists or GIS analysts, the program provides future practitioners with the knowledge, technical skills, and values to enable them to become effective professionals.
Thank you for your interest in our programs, we hope you enjoy your visit. For more information, please contact Dr. Gary Coutu, Chair of the Geography & Planning Department, Professor of Planning, gcoutu@wcupa.edu, or 610-436-2343.
Upcoming Events
Back to top of page.