March 28, 2022
Class of 2022: Frederick Shegog Reinvents Himself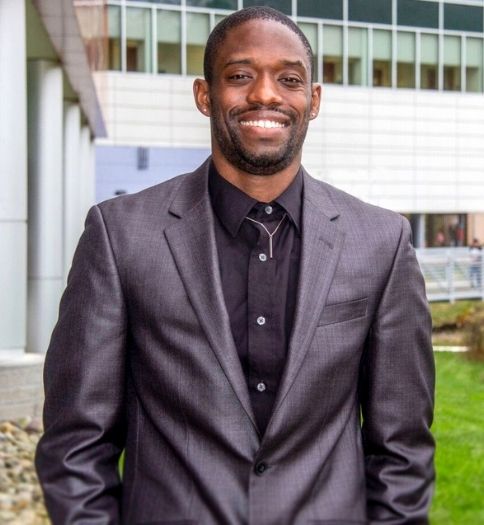 WCU student Frederick Shegog will graduate this spring with a passion for inspiring others by sharing his story of overcoming serious life obstacles.
"Not long ago, I was an alcoholic and homeless. Today, I am sober, blessed with a home, a wonderful family, and a purpose," he shares. An Honors College student, he will earn his bachelor's degree in communication studies with a minor in leadership.
Shegog transferred from Delaware County Community College (DCCC) to WCU in 2020 as a member of Phi Theta Kappa National Honor Society, one of Coca-Cola Foundation's 207 Leaders of Promise scholars, and a Phi Theta Kappa All-PA scholar, who receives full tuition to the University.
In 2018, while at DCCC, he founded his motivational-speaking company, The Message LLC, to make a difference in the world. Shegog says he wants to "share hope for a living. … As a person in recovery, I am passionate about wanting to help others suffering from substance abuse disorder."
Voted as a Philadelphia Region's Black Men Icon for 2020, Shegog is a non-traditional student in many ways, not only his age. He connected with a wide variety of staff at both Delaware County Community College and West Chester University to achieve his goal of a bachelor's degree and built a network of support. He put a name and a face to substance abuse recovery for faculty, staff, and students at both institutions and, as a motivational speaker, on other campuses and to more groups. He is both a mentor and a mentee and has become an advocate for himself as well as other college students struggling with addictions, recovery, and mental health challenges.
Shegog has been selected as the commencement speaker at the ceremony for the Communication and Media department and the Languages and Cultures department within the College of Arts and Humanities on Sunday, May 15, at 9:30 a.m. in Emilie K. Asplundh Concert Hall.
Read more about Shegog's path to success.
Back to top of page.