CANDIDATE SERVICES - TEACHER CANDIDACY

(FORMERLY known as FORMAL ADMISSION TO TEACHER EDUCATION)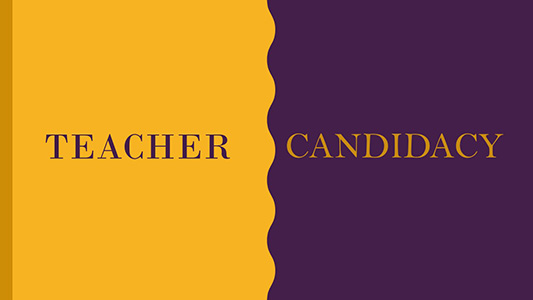 Teacher Candidacy is the written process that confirms your intent to pursue teacher certification at West Chester University in a teacher education program. Access to designated advanced professional education courses is restricted to teacher candidates who have applied and received the "milestone" of Teacher Candidacy on their transcript of EDF030U or EDF030G.
Requirements
Enrolled in a program leading to teacher certification or educational specialist
Earned a minimum of 48 credits at the college level (100 level or above)
Earned a minimum cumulative GPA of 2.8 (students admitted prior to the Fall 2022 semester)
Earned a minimum cumulative GPA of 2.9 (students admitted the Fall 2022 semester or later)
Earned 3 credits in college-level English composition
Earned 3 credits in literature taught in English
Earned 6 credits in college-level mathematics
On July 8, 2022, the Governor of Pennsylvania signed into law, Act 55 of 2022. Act 55 of 2022 waives basic skills testing as one of the requirements for Teacher Candidacy. Act 55 of 2022 is in effect from July 8, 2022 through July 8, 2025.
Received approval from your academic department.
If applicable, met any additional program specific requirements. Honors students can use the completion of HON 212, HON 313, and HON 352 for three credits of English composition, three credits of English literature, and a math course.
Application Process (electronic process)

Click the link to complete the application:

Go to MyWCU and access your Unofficial Transcript to obtain information to fill in the Teacher Candidacy form.

Click submit in the form when all information is completed. Candidate Services will verify your Teacher Candidacy requirements and contact your department for departmental approval.
Requirements
Baccalaureate graduate from a regionally accredited college or university
Minimum GPA of 2.8 on most recent 48 credits of college/university coursework
Admission to a WCU program leading to a Pennsylvania Department of Education certification
Department approval (Signature from program coordinator on APS; Departments may have additional and/or more rigorous requirements for their students.)
Application Process
Verify your Teacher Candidacy status by logging in to MyWCU, viewing your unofficial transcript, and scrolling to the bottom of the transcript. Under the milestone section, the Teacher Candidacy milestone will appear as EDF030U or EDF030G: Teacher Candidacy.
Undergraduate Students: If at any time your cumulative GPA falls below 2.8, Teacher Candidacy will be removed from your record and you will be denied access to designated advanced professional education courses. Notify by email CandidateServices@wcupa.edu, to have your Teacher Candidacy status reinstated once you have earned a minimum 2.8 cumulative GPA again.
Candidate Services
Suite 107, Wayne Hall
125 W. Rosedale Avenue
West Chester, PA, 19383
Fax: 610-436-2874
Associate Director
Kelsey Organ
KOrgan@wcupa.edu
610-436-0042
Student Success Coordinator
Thom Nixon
TNixon@wcupa.edu
610-436-3408
Student Success Coordinator
Michele Adkins
MAdkins@wcupa.edu
610-436-2521
Back to top of page.