Student Ambassadors
Angelica Andrews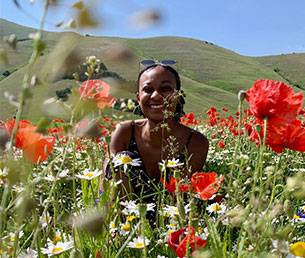 Major: Business Management
Minor: Women & Gender Studies
Program: WCU Summer in Italy - Food & Sustainable Cultural Heritage in Perugia, Italy (Summer 2019)
Spring office hour: Tuesdays 2:00 pm – 3:00 pm
I choose to study abroad because traveling has always been a passion of mine. I love being able to experience new cultures and see new environments. One factor that led me to this decision is a past experience. When I was 12, I had the opportunity to travel abroad to Spain and Morocco with my school. The trip was unforgettable and I still have very fond vivid memories. After that, I knew I wanted traveling to be an active part of my life. It fueled a desire to see as many countries, cultures, and places that I could. I had not had the opportunity to go abroad since. Due to this, I made it a goal to study abroad at some point during my undergraduate career at West Chester University. Being a lover of fashion and food, Italy had always been on my list of places to visit. Then, once I learned about to the Global Rams Initiative and the CIP Scholarships, I was determined to go.

I have several favorite memories of my time abroad-- it is difficult to just pick one. From the bonds I got to build with the other students on the trip, to the delicious food I got to try, to the gorgeous scenic views I got to enjoy, the list goes on. For the best and the frustrating times, studying abroad is an unforgettable, invaluable experience, that you should take every opportunity to take advantage of.
---
Sydney Bachmayer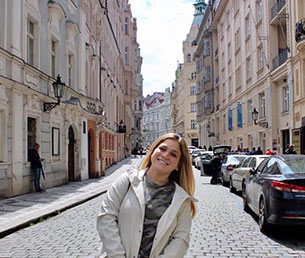 Major: International Business & German
Program: WCU Summer in Vienna, Austria (Summer 2019)
Spring office hour: Wednesdays 11:00 am – 12:00 pm
I don't even know where to begin. Over a span of 4 short weeks, unfamiliar places, unfamiliar people, and an unfamiliar culture became a place that I could call home with an incredible new group of friends. On my first day of German at West Chester, my professor gave my a brochure about an opportunity to study abroad in Vienna, Austria. I looked over it and talked to my dad about it who encouraged me to go, saying how this would be a once in a lifetime experience. I got credit for WCU courses while taking class in another country in between once in a lifetime adventures. I got to visit 4 different countries (Austria, Germany, Hungary, and Slovakia) with the program and even went a week early to the Czech Republic with a friend. The only downside to going abroad is that you'll eventually have to come back. If you're skeptical, ask questions! If you're not sure you will be able to afford it, ask more questions! There are so many resources at WCU that will make your experience abroad not only possible but the best time of your life.
---
Amari Gilmore
Major: Middle Grades Prep Education
Minors: Reading and Civic and Professional Leadership
Programs: WCU Summer in South Africa: Leadership Lessons from South African Caregivers and Nation Builders (Summer 2018)
WCU Winter in the Cayman Islands: Intercultural Communication and the Cayman Experience (Winter 2019)
Spring office hour: Tuesdays 3:30 pm – 4:30 pm
I always had some sort of excuse as to why I wouldn't be able to study abroad. I would think, "studying abroad is a whole lot of extra money I don't have," and "how could I possibly be that far from home for so many days... what if something happened while I was gone!?" After doing some research on how to fund study abroad trips (did you know WCU has scholarships for study abroad- check them out!) and after a lot of encouragement from family members, professors, and friends, I decided to take a leap of faith and attend the honors college study abroad trip to South Africa- that trip changed my life forever.
My May 2018 trip to South Africa and my January 2019 trip to the Cayman Islands taught me I can do anything I set my mind and heart on. I can do what scares me and still be okay, I can adjust to new cultures and languages and fit right in, and If I want something bad enough I CAN figure out a way to make it happen!
If you are on the fence about studying abroad, do me a favor and have a little faith. Apply for that trip to China, or Mexico, or Ghana, or whenever your heart desires; studying abroad is only impossible until you do it!
#stayencouraged
---
Ashley Harper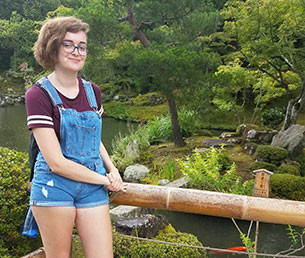 Major: English
Minor: Business and Tech Writing, Creative Writing
Program: Athena Study Abroad: Kyoto, Japan
Spring office hour: Thursdays 12:30 pm – 1:30 pm
I studied in Japan for three weeks during the summer of 2019, and I couldn't be happier with my time there. I grew up with a lot of the culture and media from the country, so it was incredible experiencing everything first-hand. Some of my favorite parts of the trip were visiting all of the beautiful temples and landmarks, as well as learning the fascinating history of such places. Not to mention getting to eat all of the delicious food! I also discovered many things I never knew about myself on the trip. Leaving my home country for the first time in my life and pushing the boundaries of my comfort zone were things I never thought I was capable of before, and seeing the lifestyle and history of another society was a rewarding and educational experience I will treasure forever. I highly recommend studying abroad for anyone who is able!
---
Alexis Jensen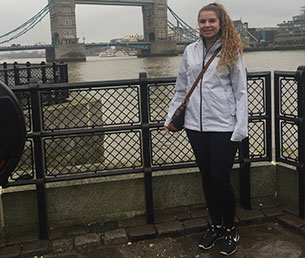 Major: Accounting & Finance
Minor: International Business & Spanish
Programs: AIFS Semester in London, studying at Richmond, The American International University in London (Spring 2018)
WCU Intercultural Communications in the Cayman Islands (Winter 2019)
Spring office hour: Wednesdays 1:30 pm – 2:30 pm
I have always dreamed of traveling the world and exploring new cultures, but never had the opportunities to do so. All of that changed when I came to West Chester University. I visited the Center for International Programs and suddenly my dreams started to become my reality. I chose to study abroad with AIFS at Richmond, The American International University in London for a semester.

The experiences and global knowledge I gained from my four months in London is incomparable. I was fortunate enough to get the chance to travel frequently while I called London home. Witnessing the culture, values, and beliefs of all 9 other countries I visited was my favorite part of studying abroad; each one was unique and distinctly its own. Additionally, I established strong relationships with the people I encountered along the way.

Studying at an International University was crucial to my experience in London, as well. Not only did I attend school with other American students and native Brits, but I encountered classmates and professors from all over the world. I was able to learn so much about myself, the world, and the people in it throughout my journey abroad and I am forever grateful to have had the opportunity to do so. In fact, I loved my experience so much, I decided to study abroad a second time with WCU's Intercultural Communication in the Cayman Islands program!

If I could give one piece of advice to a student looking to study abroad, I would say to put your fears and doubts to the side and just go for it! It is the experience of a lifetime and you will not regret it!
---
Maeve King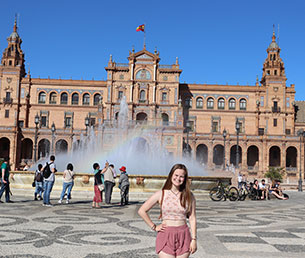 Majors: Spanish, German, Political Science: International Relations Concentration
Minor: Latin American and Latino Studies
Programs: WCU Summer in Vienna, Austria (Summer 2018)
International Studies Abroad- ISA - Seville, Spain (Spring 2019)
Spring office hour: Mondays 2:00 pm – 3:00 pm
In the summer of 2018, I spent four weeks studying in Vienna, Austria, and then I studied in Sevilla, Spain for the Spring 2019 semester, and both experiences were nothing short of incredible. I was able to improve my language skills in German and Spanish respectively, I learned more about the culture of each country, and I met so many amazing people! More than anything, studying abroad was an opportunity for self-growth that is unlike anything else; being in a foreign country and completely immersing yourself in their way of life can definitely be intimidating, but it was the most rewarding experience of my life.
One of my favorite memories from studying in Sevilla was my very last night there because about fifteen of my closest friends and I sat by the Guadalquivir River and reminisced on all the memories we had made. We were all leaving to head back to the United States at some point that next day, and saying goodbye to each other was more difficult than we had expected. Although we had only known each other for four months, we shared some of the most beautiful and life-changing experiences together, and as we laughed and cried about everything we had done throughout the semester, I remember thinking about how lucky I was to have had something that I so desperately did not want to leave. Even months later, we all still talk almost every day, and we are in the process of making plans for a reunion in the next few months!
For anyone who is considering studying abroad, to put it simply: do it. It is easily the best choice I have made in my college career.
---
Ben Lewis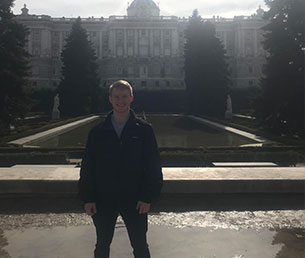 Major: Communications
Program: CEA, Madrid—Liberal Arts & Business (Spring 2019)
Spring office hour: Fridays 10:00 am – 11:00 am
During my time in Madrid, I made the most out of every situation. I left home feeling a bit of apprehension but that all settled within a few hours of landing. My roommates became my best friends and we shared countless hours hiking, exploring the nightlife, and trying every gelato shop we could find. The applicability of intercultural experiences in my field, along with my intermediate Spanish language skills naturally pointed me toward Spain. Living in the Salamanca district of Madrid afforded me the chance to explore Buen Retiro Park, The Prado Museum, and our famous markets all within walking distance. When given such an opportunity, in such a remarkable city, making the most of every day is never a challenge.
---
Rebecca Lormeus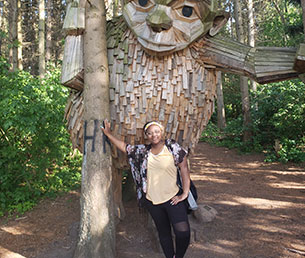 Major: Graphic Design
Minors: Art History
Program: WCU in Copenhagen, Denmark: Global Art & Design (Summer 2019)
Spring office hour: Tuesdays 11:00 am – 12:00 pm
Prior to my education abroad I had never traveled out of the country, I had never even been on a plane before. So, when my professor came to me with the opportunity to study design in Denmark I jumped at the chance to go. For three weeks, I lived in Copenhagen studying sustainability and how the Danish implement it everything from the environment around them to their personal lives. I had the fortunate opportunity to meet and study under Danish designers as they helped me to further develop my skills as an artist. I would encourage students who'd like to study abroad to be open to change. Adjusting to a new country will take time and you may feel homesick. Go out explore and meet your neighbors. Getting adjusted starts with leaning into the experience and getting the most out of it as you can.
---
Nick Marino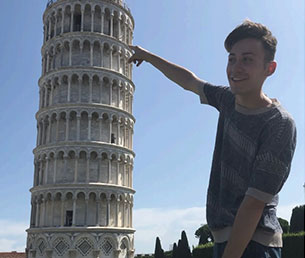 Major: Communications
Minors: Psychology
Program: ISA Florence, Italy: Business, Hospitality, & Studio Art (Summer 2019)
Spring office hour: Mondays 10:00 am – 11:00 am
During my study aboard program, I learned a great deal about Italy, it's culture and the people who live there. As a Communication major, I felt that learning about a different country and culture other than my own would be a great way to advance my studies. I am so grateful that I was given the opportunity to travel such a beautiful place and experience food, people and language that I previously had no experience with.
---
Lyndsey Michelsen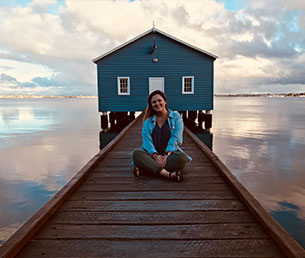 Major: Finance & Economics
Programs: The Education Abroad Network- Perth, Australia, University of Western Australia (Spring 2019)
Spring office hour: Tuesdays 12:30 pm – 1:30 pm
I spent spring semester 2019 in Perth Australia, and it honestly was one of the best decisions I have ever made. I chose Oz because it's a place I've always wanted to go, and was intrigued by their easygoing life style. After doing some research, I found Perth which was described as a cute beach town city, and the "hidden gem of Australia", and knew that sounded like the place for me. I never expected to meet so many amazing people from all over the world, and live in such a beautiful place that would soon feel like a second home. The University of Western Australia offered so many opportunities for me, and with it having so many other international students, I got to live with Aussies and people from Europe, Africa and Asia. Those 17 weeks were a huge period of growth for me, and changed my outlook on new things. I made the choice to start saying yes to things that scared me, and go on the spontaneous adventures which led me to so many amazing memories and opportunities I otherwise would have given up. As a more reserved person, i was terrified of having to make all new friends, but forcing myself to come out of my shell was so beneficial.

To anyone considering studying abroad, or even traveling in general, my advice would be to buy the plane ticket!! You will learn so much about yourself and what you are capable of when you put yourself in new situations, but also become much more aware of our world. You get a totally different perspective of a country when you live along them. I was lucky enough to fall in love with the city I was in, and be surrounded by total strangers who became my family. Although I was extremely sad to leave Perth and my friends from all around the world, I knew I had experienced something so special to make leaving so hard. While over there, I was able to travel a bit around the country to Cairns, Brisbane and Sydney, and also to several countries in Asia. I couldn't have imagined a better semester and was something I will remember forever.
---
Barbara Ransom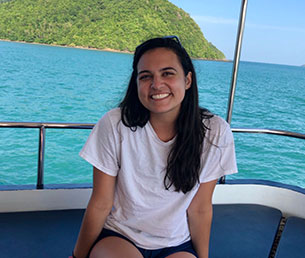 Major: Nutrition
Programs: CISabroad Internship in Chiang Mai, Thailand (Summer 2019)
Spring office hour: Mondays 1:00 pm – 2:00 pm
I chose to intern in Chiang Mai, Thailand to experience a culture completely different from America. By living with a host family, I was really able to experience the authentic Thai culture. The language, food, and lifestyle were all so different than anything I had ever experienced, which is exactly what I was looking for! Through this experience I learned more about myself and what I wanted out of my future personally and professionally. I also became very close to my host family and made friends from around the world!
During my internship I learned so much about the Thai healthcare system in comparison to the American healthcare system. I had the opportunity to shadow units of the village hospital, learn about disease prevention programs, and be a part of mobile health clinics. I learned more than I could have ever hoped to in eight weeks. These experiences helped me learn what area of nutrition I want to focus on in the future. My advice for any future travelers would be to write down a little summary of what you do every day. You will meet amazing people and do amazing things and writing it down will help you remember it all for years to come!
---
Danielle Sinn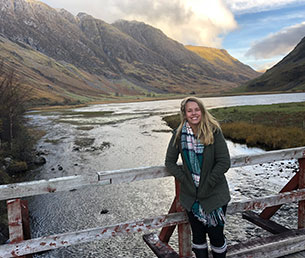 Major: Political Science- International Relations
Minors: French & Arabic
Programs: IAU College – Aix-en-Provence, France (Fall 2018)
WCU in Jordan: Arabic Language, History and Culture – Amman, Jordan (Summer 2018)
WCU in Mexico: Latin American Culture and Politics – Mexico (numerous towns) (Winter 2017)
WCU The Transatlantic Partnership – Belgium, France, Germany and Luxembourg (Spring Break 2017)
Spring office hour: Thursdays 11:00 am – 12:00 pm
During my college career, studying abroad has been a constant. I have been a part of four study abroad programs from Mexico to Jordan and all over Europe. I have travelled during my spring, summer and fall break in addition to a whole semester in France. Studying abroad has been an extension of my desire to enhance my language skills, specifically Arabic and French. Not only have I had the opportunity to become more confident in my Arabic and French, but I have learned so much about how to live in these cultures and respect their way of life.

My favorite part about my trips has been the people that I've met. Staying up late in Mexico City to get tacos, getting lost in Brussels, dunking my head in the Dead Sea in Jordan (not a good idea by the way) and baking molten lava cakes in France would never have been as fun if I hadn't had people there to experience it with me.

To students who are curious about studying abroad I would say that I have not met one student who has studied abroad that has regretted the experience. I have met several students who have decided to opt out of an international opportunity for various reasons. When these students hear stories about the trip and see pictures and videos, they do have regrets. I would advise these students to think about if they want to be abroad and have that experience. If the answer is yes, then we can figure out the other details together.
---
Back to top of page.