The Ram's Eye View 2016-2017 Student Handbook
The Ram's Eye View Student Handbook 2016 - 2017 is produced by the Division of Student Affairs. Requests for hard copies may be directed to the Office of the Assistant Dean for Student Involvement, 202 Lawrence Center.
Greetings from the President's Office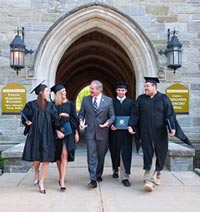 Welcome new students! Returning students, welcome back! West Chester University offers unlimited opportunities for developing your skills and talents, advancing your personal and career goals, and applying classroom lessons on campus, in the community, and around the world.
The University is committed to your success. Our campus community provides many sources of support to help you meet your goals, now and into the future. Whether you find yourself confronting an academic issue or a personal challenge, this handbook can point you toward the answers and assistance you need. This handbook will tell you about all the fun stuff going on at WCU. Get involved in one or more of our 260-plus student organizations, which include music, service, academic, religious and special interest groups, as well as Greek Life. In WCU's Student Rec Center, go for a climb on the three-story-high climbing wall, take a spinning class, or just shoot hoops with new friends. And when the sun goes down, you won't want to miss the good times to be found at Sykes After Dark.
You'll also learn about ways you can join other WCU students in giving back to the community and to the world. In the 2015-2016 academic year, WCU students provided more than 694,000 hours of service-learning and other volunteerism here in Chester County and as far away as South Africa. Our commitment to service-learning has helped put WCU on the national map for volunteerism.
You'll discover that WCU's athletic teams also make the news--The Golden Rams are highly competitive, winning conference and even national championships. The Ram's Eye View gives you the scoop on our Division II intercollegiate athletics, as well as information on intramural and club sports. And if you simply want to find out where on campus you can grab a coffee or swim laps, this handbook will tell you that, too. Plus, The Ram's Eye View will help familiarize you with our surrounding community, from nearby restaurants to places of worship. And it will inform you of important University policies, including the Student Code of Conduct.
Best wishes for the academic year ahead—I look forward to seeing you on campus soon!
Sincerely,
Christopher Fiorentino
President