Graduating Students - Graduate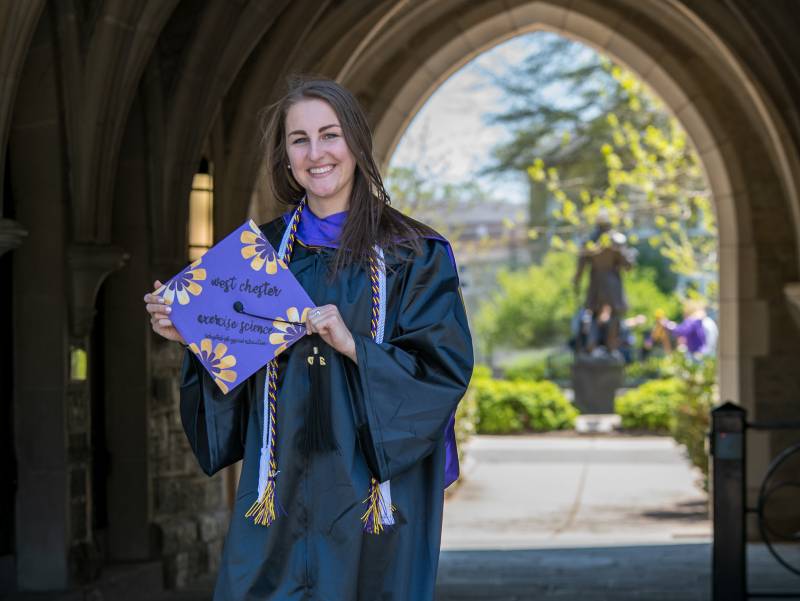 Congrats Class of 2021!
Your degree represents an incredible journey of academic dedication and scholastic accomplishment. Graduation day will mark an important milestone in your academic career. West Chester University's commencement ceremonies serve to salute your success and achievement. Congratulations to the newest WCU alumni!
Ticket Information
Each graduate will get six (6) tickets. Graduates do not require a ticket. Infants and small toddlers, two years old and younger, who will sit on laps do not need a ticket. Due to current CDC guidelines, we will not be able to offer any additional tickets above the six guaranteed to each graduate.
Doors open 60 minutes prior to start time. Tickets may be printed in advance or displayed on a mobile device. All ceremonies will be live streamed for those who do not have a ticket or do not feel comfortable attending.
Caps, Gowns, and Hoods
Ordering
Please click here to submit your cap/gown order with Oak Hall Cap and Gown.
The deadline to submit your cap and gown order to ship to the WCU Campus Store is Saturday, October 30, 2021. There is no additional charge for this service.
The deadline to submit your cap and gown order to ship to your home is Sunday, November 28, 2021. There is an additional fee for this service, which must be paid by credit card when you order.
Picking Up
Caps/Gowns ordered through Oak Hall may be picked up at the SSI Bookstore, lower level Sykes Student Union beginning Monday, December 5.
How to Put on Your Cap, Gown, and Hood
Diplomas
Paper diplomas will be mailed, to your home address, approximately 6-8 weeks after final grades post, after the Registrar's Office has verified the completion of all degree requirements.
If there are any outstanding issues that will prevent you from graduating, the Registrar's Office will notify you by mail and email. Visit the Registrar's page on Diplomas.
Special Regalia

Grade Point Honors cords are for undergraduate students only. Graduate students are not eligible for these cords.
A number of University colleges, academic programs, honor societies, organizations, and clubs award special cords, stoles, pendants, and tassels to recognize their graduates. Please view Cords, Stoles, and Regalia for a list of those regalia. Please note that these regalia are not designed or distributed by the University, but by the organizations that sponsor them. However, to avoid duplication, any department or organization interested in introducing additional forms of these regalia should e-mail the Commencement inbox (commencement@wcupa.edu) prior to creating it.
Senior Portraits
The yearbook will feature the senior portraits of December 2021, May 2022 and Summer 2022 graduates. Seniors should schedule their portrait sitting to assure that a photo is included in the book. Contact the campus photographer mroland@lifetouch.com to schedule your photo.
Serpentine Yearbook Information
The Serpentine is the official yearbook of West Chester University. This year marks the 150th Anniversary of WCU, and the 2021/22 Yearbook will revisit 150 years of historic WCU moments along with highlighting events from this school year. Purchase your yearbook today at www.balfour.com. Several yearbook packages are available, and advertisements to congratulate the students may also be purchased. Please direct any questions to Serpentine@wcupa.edu. Candid photos may also be submitted to the yearbook for potential inclusion.
List of Graduates
List of Graduates will be made available two weeks prior to commencement.
Back to top of page.