150th Anniversary Common Reading Program
Sponsored by West Chester University's Frederick Douglass Institute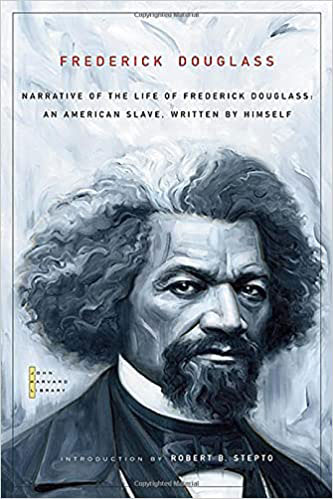 Narrative of the Life of Frederick Douglass: An American Slave, Written by Himself (1st Edition, Published in 1845)
West Chester University is pleased to announce the Narrative of the Life of Frederick Douglass: An American Slave, as the University's common reading for all students for the 150th Anniversary Celebration Winter 2021-Spring 2022. It serves to educate students on the life and legacy of Frederick Douglass and his connection to West Chester University.
Upcoming Programs and courses related to the life and legacy of Frederick Douglass:
Frederick Douglass Institute 25th Plus Anniversary (Date: TBA)
Lincoln- Douglass Debate, March 22-23, 2021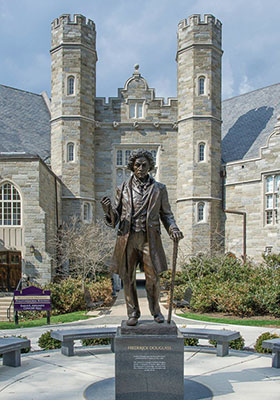 Purpose of a Common Reading
The practice of assigning students a "common reading" has been a popular practice on college campuses for well over a decade, as it provides the opportunity to bring people closer together as a community and create a common ground for discussions. Many universities have used their common reading selections to serve as an opportunity to engage students from different backgrounds in constructive dialogue on key social topics spanning U.S. diversity and global issues.
About Frederick Douglass
Though born into slavery around 1818, Frederick Douglass would become one of the world's foremost champions of human freedom. A self-taught man, his life as an author, orator, newspaper editor, U.S. Colored Troops Recruiter, and U.S. Ambassador to Haiti stood as a counter-example to the then largely held belief that enslaved people did not possess the intellectual capacity to live in freedom alongside their white counterparts. Although posterity primarily aligns him with the abolition of slavery, Douglass firmly believed in the equality of all people regardless of race, gender and creed. Douglass and the Commonwealth of Pennsylvania share a long and storied history together. As noted on the statue, Douglass delivered his final speech at West Chester University of Pennsylvania on February 1, 1895.
A few of the many famous quotes of Frederick Douglass that still ring true today:
"I would unite with anyone to do right and with nobody to do wrong."
"It is easier to build strong children than to repair broken men"
"Without struggle, there is no progress"
"Where justice is denied, where poverty is enforced, where ignorance prevails, and where any one class is made to feel that society is an organized conspiracy to oppress, rob and degrade them, neither persons nor property will be safe."
"Some know the value of education by having it. I knew its value by not having it."
~ Frederick Douglass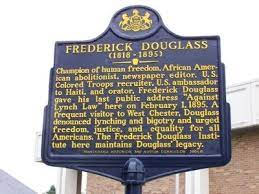 WCU Douglass Historical Landmark (June 27, 2008)
Under the guidance and leadership of Dr. C. James Trotman (Professor Emeritus), the Frederick Douglass Institute (FDI) of West Chester University was named as a national historical landmark. The National Park Services (NPS) and the National Underground Railroad Network to Freedom (UGRR) recognized the Frederick Douglass Institute (FDI) for making significant contributions to the understanding of the Underground Railroad and its connection and contributions to American and African American History.
WCU's Frederick Douglass Institute
The mission of the Frederick Douglass Institute at West Chester University of Pennsylvania (FDI) is to maintain the legacy of the great abolitionist, orator, and statesman Frederick Douglass before the campus community, local community, region, and the nation through the highest quality of academic programming that promotes excellence in scholarship, teaching, and institutional advancement. Consistent with its mission, and with the mission, vision, and values of the university, the Institute is an educational and cultural resource for advancing multicultural studies across the curriculum and for deepening the intellectual heritage of Frederick Douglass, the former slave, distinguished orator, journalist, author, and statesman. Douglass, who was a frequent visitor to the West Chester area, gave his last public lecture on West Chester's campus on February 1, 1895, just nineteen days before his death.
Guided by the spirit of Douglass and his legacy, the Institute aims to create opportunities to build a better community for all of us to fulfill our destiny as human beings. Perhaps Douglass himself put it best when on October 1, 1865, at the inauguration of an Institute named for him in Baltimore, Maryland, Douglass said that the mission of that Institute was, in part, "to be a dispenser of knowledge," and "a radiator of light." Douglass also declared in his remarks that "In a word, we dedicate this Institution to virtue, temperance, truth, liberty, and justice." Through the leadership of WCU, there are Frederick Douglass Institutes at all fourteen campuses of the Pennsylvania State Universities System. Collectively the Frederick Douglass Institutes at all 14 campuses of the Pennsylvania State University System are known as the FDI Collaborative.
Back to top of page.