About the Institute
The Institute is named after one of America's best known heroes, Frederick Douglass, the former slave, distinguished author, and statesman.
The mission of the Frederick Douglass Institute at West Chester University of Pennsylvania (FDI) is to maintain the legacy of the great abolitionist, orator, and statesman Frederick Douglass before the campus community, local community, region, and the nation through the highest quality of academic programming that promotes excellence in scholarship, teaching, and institutional advancement. Consistent with its mission, and with the mission, vision, and values of the university, the Institute is an educational and cultural resource for advancing multicultural studies across the curriculum and for deepening the intellectual heritage of Frederick Douglass, the former slave, distinguished orator, journalist, author, and statesman. Douglass, who was a frequent visitor to the West Chester area, gave his last public lecture on West Chester's campus on February 1, 1895, just nineteen days before his death.
Guided by the spirit of Douglass and his legacy, the Institute aims to create opportunities to build a better community for all of us to fulfill our destiny as human beings. Perhaps Douglass himself put it best when on October 1, 1865, at the inauguration of an Institute named for him in Baltimore, Maryland, Douglass said that the mission of that Institute was, in part, "to be a dispenser of knowledge," and "a radiator of light." Douglass also declared in his remarks that "In a word, we dedicate this Institution to virtue, temperance, truth, liberty, and justice." Through the leadership of WCU, there are Frederick Douglass Institutes at all fourteen campuses of the Pennsylvania State Universities System. Collectively the Frederick Douglass Institutes at all 14 campuses of the Pennsylvania State University System are known as the FDI Collaborative.
FDI accomplishes its mission by:
Recognizing excellence in scholarship and serving the campus community, region, and nation through:
Yale Summer Undergraduate Research Fellowship (SURF)
Patricia Grasty Gaines Book Award
Graduate Assistantships
Bi-Annual Interdisciplinary Conference on Douglass
Recognizing excellence in teaching and serving the local community and region through:
Frederick Douglass Summer Scholars Program
Continuing Legal Education
Patrica Grasty Gaines Awards Dinner
Recognizing excellence in institutional advancement through:
Frederick Douglass Summer Scholars Program
Patricia Grasty Gaines Awards Dinner
VISION
Our vision is to be, as was Frederick Douglass, continually empowered through knowledge, and to, through such empowerment, strive for justice both in the academy and beyond.
The Frederick Douglass Institute
cordially invites you to attend
The Fourth Annual Dr. Clifford E. DeBaptiste
Frederick Douglass Institute Lecture
Featuring Distinguished Speaker
Dr. Brenda Allen
President, Lincoln University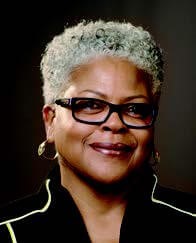 "Literacy Versus Orality or Orality Supports Literacy: The Power of Culture in Producing Educational Equity"
---
Thursday, October 5, 2023
3:00 pm - 4:30 pm
Philips Autograph Library
Philips Memorial Building
700 S. High Street
West Chester, PA 19383
View the Lecture Program
4th Annual DeBaptiste Douglass Lecture Recording
Favor of RSVP by September 29th
---
Parking will be available in M Lot
For questions, please contact June Thompson at jthompson2@wcupa.edu
Twenty-Five-plus Anniversary of WCU's Frederick Douglass Institute
About Frederick Douglass
Back to top of page.