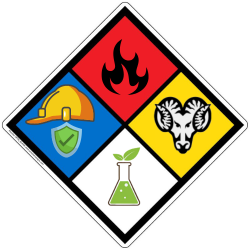 The Department of Environmental Health and Safety (EHS) is responsible for the development and implementation of environmental and all occupational health and safety programs throughout West Chester University's campus. EHS has four areas of responsibility: Occupational Health and Safety, Fire Safety, Environmental Protection, and Laboratory and Research Safety.
Regular inspections are performed in buildings and EHS monitors all adverse environmental exposures. The department is here as a service and support unit within Facilities and also acts as the liaison for the university with regulatory agencies in the fields of occupational and environmental health and safety.
Safety Policy Statement
West Chester University is committed to providing a safe and healthful environment for all faculty, staff, students and the surrounding community. This is achieved through the implementation of comprehensive environmental, health and safety programs and policies focused on reducing risks to people and the environment and ensuring compliance with applicable laws and regulations.
Topics of the month
Click image to make larger
Back to top of page.