Staff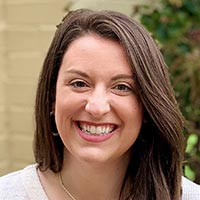 Lexie McCarthy, Director of Parent and Family Relations
Welcome to the West Chester University Golden Ram Family! At WCU, we believe that parents and family members are integral partners in student development and success. We thank you for your continued support, encouragement, and engagement in your student's educational experience.
Though our programs and services, the Office of Parent and Family Relations is committed to ensuring that you are informed and engaged and have access to resources necessary to promote your student's success, beginning at New Student Orientation until your student walks across the stage at graduation.
Do you have questions? Please call Parent and Family Relations at (610) 436-2698, email us at ParentFamilyRelations@wcupa.edu, or visit my office in the Lawrence Center Room 212. I would be very happy to help you navigate WCU and answer any questions you may have.
Lexie McCarthy is the Director of Parent and Family Relations, a position she has held since spring of 2019. Lexie has worked in higher education since 2014, primarily serving in the field of student engagement. She holds a bachelor's degree from Bucknell University, a master's degree from Miami University in Ohio, and is currently pursuing her Doctorate of Education at West Chester University. Lexie is a West Chester, PA native and is excited to engage with WCU parents and families.
Rams up!
West Chester University's Office of Parent and Family Relations supports the mission and vision of the University and the Division of Student Affairs by recognizing our WCU community of educators includes parents and families, as we share a common goal of fostering student learning, development, and success.
The Office of Parent and Family Relations is committed to building lasting collaborative partnerships with parents and families by providing intentional information and meaningful engagement opportunities to ensure students are supported in their personal and professional development.
West Chester University' Office of Parent and Family Relations will be a nationally recognized model for demonstrating excellence in partnership with parents and families to support student success on campus and prepare students to learn, lead, and serve in their communities after graduation.
West Chester University' Office of Parent and Family Relations believes:
All parents and families should have access to accurate and timely information about WCU's services, programs, and opportunities that contribute to student success.
Parents and family members provide invaluable expertise and wisdom that can be harnessed to support and further University, Division, and department goals.
Intentional partnerships with parents and families strengthen and enhance the student experience and are integral to fostering student success, retention, and lasting affinity to the institution
Back to top of page.