Nogin
Chung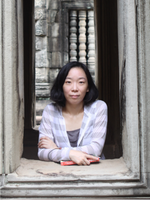 Professor, Art History
Email Nogin Chung
Education
M.B.A., Bloomsburg University of Pennsylvania, 2018.
Ph.D., University of Minnesota, Twin Cities, 2008.
M.A., University of Minnesota, Twin Cities, 2002.
B.A., Seoul National University, South Korea, 2000.
Curriculum Vitae
Nogin Chung is a specialist in modern and contemporary art. She offers courses such as Modern Art Seminar; Contemporary Art; Women Artists; and History of Graphic Design. Her current research focuses on the role of art in social change and examples of protest art in contemporary Asia. She has published articles and book chapters on posthumanism, public art, and American popular culture. Before coming to West Chester, she taught at Bloomsburg University and University of Minnesota.